Halloween in the NFL started off strange ... with the Dolphins leading the Giants, the Cardinals leading the Ravens, and the Rams leading the Saints; but things quickly died back down to normalcy... for the most part. How does Halloween, NFL style, impact Power Rankings and predictions for next week? Let's explore!
Biggest Winner
: Kansas City Chiefs (+4)
Biggest Loser
: Washington Redskins (-3)
1. Green Bay Packers
(7-0,
+0
): The Packers saw the Lions win during their bye, but they are still standing strong at the top of the NFC North. A relatively easy schedule moving forward with one of the best Quarterbacks in the league... the Packers have a serious shot at reaching the illusive 16-0 record.
2. New England Patriots
(5-2,
+0
): The Pats may have fell to the Steelers, but I'm not going to jump off the bandwagon just yet. While the New England defense was indeed woeful, no other team last Sunday really impressed me enough to put them at #2. The Patriots will rebound, they always do. I'm counting on that.
3. Pittsburgh Steelers
(6-2,
+3
): Before last Sunday, I seriously had no idea how good the Steelers were. Their wins were against some of the worst teams in the league, and that Week 1 domination really had me iffy about this team. A win against the Patriots changes my opinion on them. I now think they are favorites in the AFC North.
4. Baltimore Ravens
(5-2,
+0
): Woah, that was a lot closer than it should have been... the Ravens really shouldn't have let the Cardinals be in that game. Joe Flacco has imploded, he is playing the worst football of his career. Maybe it wasn't such a good idea after all firing Quarterbacks coach Jim Zorn...
5. New Orleans Saints
(5-3,
-2
): Who saw this coming? The Saints lost to the Rams, who prior to this game, scored less points the entire season than the Saints did the week before. I'm not going to bash them so much for this loss as I think it was a trap game and New Orleans was "sleeping" past the Rams, but they need a rebound or they will be in a bad spot.
6. Houston Texans
(5-3,
-1
): Texans took care of business at home against the division-rival Jaguars. Houston will finally make the playoffs. Their only real competition now comes from the 4-3 Titans, who are not as good as their record indicates. If they somehow manage to blow this, Gary Kubiak should literally be fired. Seriously... I'll bring the matches.
7. San Francisco 49ers
(6-1,
+0
): With a 6-1 record, the 49ers are second only to the Packers in terms of win percentage. They're one of the huge surprises of this season, and while their season started off a bit rocky, things are finally clicking. Frank Gore has returned to his Pro Bowl form, and the defense remains dominant. Alex Smith is looking like a quality Quarterback too... Why didn't Jim Harbaugh choose Miami? = (
8. Detroit Lions
(6-2,
+2
): The Lions rebound on the road was huge. They spent little effort in demolishing the Tim Tebow-led Broncos. Rebound is good to see, but now they need to put it together against a legitimate Quarterback. Even the Dolphins sacked Tim Tebow a bunch of times... its not that impressive.
9. Atlanta Falcons
(4-3,
+0
): Falcons bye went well, as New Orleans dropped to the lowly Rams. This means Atlanta is just a game behind the Saints. In the NFC South, there is hardly ever repeat division champs... but Atlanta is in a position to change that annoying trend now.
10. San Diego Chargers
(4-3,
-2
): What is with this Chargers team? Despite Philip Rivers two early picks, a bunch of silly penalties, and a mostly ineffective rushing attack, the Chargers won that game if it not for the botched snap by Philip Rivers. Then to lose in Overtime... wow, once again, the Chargers are killing themselves. How a team can be so impressive on both sides of the ball yet consistently lose games is beyond me.
11. New York Giants
(5-2,
+1
): The Giants played pretty badly against Miami in the first half, but was able to turn things around after halftime. Miami has played teams pretty closely all season, but the Giants do have a bad trend of playing to the level of their opponents... they haven't had a clear-cut victory all season.
12. Buffalo Bills
(5-2,
+1
): This win was important for the Bills. Going into the bye, the public had turned on the Bills, saying that their two losses was a sign that their success was a "fluke" and this would be another Bills team to start off strong then fall off mid-season. A shut-out of the Redskins gets them back on track... their defense, which has been suspect in recent weeks, shut out the Redskins, getting an unheard-of 9 sacks of John Beck. Due to the tiebreaker with the Patriots, they have regained first in the AFC East.
13. New York Jets
(4-3,
-2
): The Jets had a so-so bye. The Patriots lost, but the Bills won. The AFC East race is close, so it'll be interesting to see how it turns out. Obviously, I think the Patriots will win out (by these Power Rankings) but the battle between the Jets and the Bills for a wildcard will be interesting to watch. Coming off a 9 sack performance vs Washington, I really hope the Bills can bring the heat to overrated Jets QB Mark Sanchez to force some key turnovers Go Bills!
14. Chicago Bears
(4-3,
+1
):
Not a good bye for Chicago, watching the Lions win to get another game ahead of them in the division. With Green Bay in the division, though, Chicago is obviously playing for a wildcard at this point. It will be tough, however. Their notable rivals in this are the 6-2 Lions, 4-3 Falcons (or 5-3 Saints), and 4-3 Buccaneers. The Bears need to keep winning, or they will be sitting at home during the playoffs.
15. Philadelphia Eagles
(3-4,
+2
): For the first time all season, the Dream Team started to look as we expected them to look. Andy Reid has never lost in the week coming off a bye, improving his record to 13-0 in Philadelphia. That's insane, especially in a season where teams have not been great coming off their bye. Unfortanutely for the Eagles, the Giants won (who also has a tiebreaker vs the Eagles), so the playoffs at this point is still a long shot.
16. Dallas Cowboys
(3-4,
-2
): Dallas seriously laid an egg. Its a shame, I was looking forward to an entertaining NFC East matchup (as Cowboys-Eagles games usually are). So much for firing Wade Philips fixing this team... Jason Garrett isn't much better. Its almost like he despises setting up anything that resembles a running game.
17. Tampa Bay Buccaneers
(4-3,
-1
): The Bucs, like the Falcons, liked watching the Rams upset the Saints. The Bucs, however, are not as good as the Falcons and lost a tiebreaker game against the Bears. They're still in contention, but they can't afford to lose. LeGarrette Blount is likely to return, so that will help them in the running game.
18. Oakland Raiders
(4-3,
+0
): How the Raiders play coming off the bye after being shut out 28-0 by the Chiefs will determine how the rest of the season goes. If they come out strong, they may catch some momentum which could propel them to the playoffs. If not, they'll be lucky to win another game.
19. Cincinnati Bengals
(5-2,
+1
): As predicted last week, the Bengals are now an astonishing 5-2. That's the same record as the division-rival Ravens. Are they as good as the Ravens? No, not at all. Now that their schedule starts getting a bit harder, I expect the over-performing Bengals to fall off. We'll see.
20. Minnesota Vikings
(2-6,
+3
): Minnesota will really win some games under Christian Ponder. After a pretty good premiere vs the Packers, he follows it up with a huge win against the Panthers. He runs this offense infinitely better than Donovan McNabb... who I think will be done after this season.
21. Carolina Panthers
(2-6,
-2
): Poor Cam Newton. Once again, he played very well against the Vikings. Sure, had some mistakes, but once again put his team in a position to win the game... only for that to be ruined by a kicker. Teams are not kind to Kickers who can't make a key field goal, so I wouldn't be surprised to see Kicker Mare waived.
22. Kansas City Chiefs
(4-3,
+4
): Granted, their win was due to a highly lucky and improbable botched snap by Philip Rivers, but the Chiefs will take it just the same. Without some of their best players, the Chiefs have been able to rebound from their abysmal 0-3 start to win 4 straight. Maybe there is something to Haley's beard.
23. Tennessee Titans
(4-3,
-1
): The Titans won, but I don't really find beating the woeful Colts impressive. Plus, the 27-10 score was somewhat misleading in that 7 of those points came on a Special teams touchdown. Once again, Chris Johnson was ineffective against one of the worst run defenses in football. He managed just 34 yards on 14 carries, while Ringer stole a lot of carries from him, earning 60 yards on the same amount of carries. This is Shaun Alexander all over again.
24. Washington Redskins
(3-4,
-3
): For the first time in his long and productive career as an NFL head coach, Mike Shanahan was shut out. John Beck didn't even play that badly, either, but the Redskins were unable to set up the run and the Redskins also gave up some opportunities to score points. One would've thought Shanahan would've just kicked the field goal near the end of the game to avoid the shut out than going for it in 4th down...
25. Cleveland Browns
(3-4,
-1
): The Browns' 3-4 record is seriously misleading, this team is not good at all. Their three wins have come against Indianapolis, Miami, and Seattle... the teams I have ranked as the worst three in these Power Rankings. Their remaining schedule is pretty brutal, don't expect them to win many more games.
26. Jacksonville Jaguars
(2-6,
-1
): Blaine Gabbert was not, and is not ready. 10/30 for 97 yards, 1 touchdown, 2 picks is not a gerat way to win many football games. Defensively, the Jaguars played good once again but offensively, they are just awful. The Jaguars may be the one reason why the Colts don't go 0-16.
27. Arizona Cardinals
(1-6,
+0
): The Cardinals almost pulled off the upset against Baltimore... At one point, they were up 24-3 against the Ravens only to completely fall off in the second half, losing to a last second field goal. While this game shows promise, I'm not quite sure since Baltimore has not played well against poor teams this season.
28. St. Louis Rams
(1-6,
+3
): With A.J. "Touchy" Feeley getting the Rams first win of the season, an upset against the Saints no less, one has to believe the Rams will be able to build off this success when Sam Bradford comes back into the starting roster. Yes, it was a trap game for the Saints and no, the Rams wouldn't beat the Saints even 3 times out of 10, but they will compete with a lot of teams on their remaining schedule moving forward, and will win some more games. Their remaining schedule is a cakewalk.
29. Denver Broncos
(2-5,
-1
): So where are these Tim Tebow supporters now? Honestly, I don't see how anyone can see Tim Tebow as an NFL starter in 3 years after this performance. Once again completing less than half of his passes, he managed just 172 yards for one (lucky) touchdown and pick. He was sacked another 7 times, totaling 13 sacks in two games. He also fumbled three times and barely scrambled more than the yardage he was sacked for. Then again, he played better in the 4th quarter again. Maybe John Fox should start Orton for quarters 1 to 3, then let Tebow play the 4th quarter. They may win some games.
30. Seattle Seahawks
(2-5,
-1
): I officially hate the Seahawks. I was looking pretty strong in my fantasy matchup with my father before the Seahawks decided to give up a Return touchdown and a pick six in the final minutes of their matchup with the Bengals (my dad started the Bengals DST). Sigh... the Seahawks are bad, plain and simple. They had a lucky win against the Giants, but make no mistake, they are among the league's worst.
31. Miami Dolphins
(0-7,
-1
): The Dolphins dominated the game for three quarters, but was unable to create enough score seperation. Then, they fell apart in the 4th quarter, not being able to convert on 3rd down and the defense giving up huge plays to lose the game. This has been the story of the Dolphins for the last 3 years. There is talent on this Dolphins roster, their woes are due to coaching. Tony Sparano is a nice guy, but he's not cut out to be an NFL head coach.
32. Indianapolis Colts
(0-8,
+0
): Games like this almost make me believe that the Colts front office and coaching staff are involved in the Suck for Luck campaign. I really worry that Miami will come in second to these guys. My only hope is that either a) they play the Jaguars on a bad day or b) Peyton Manning forces his way back into the lineup to win some pointless December games.
Predictions for Next Week
TKN's accuracy, Last week:
9-4 (69.23%)
Billy's accuracy, Last week:
8-5 (61.54%)
AFS's accuracy, Last week:
11-2 (82.62%)
TKN's Overall 2011 accuracy:
77-39 (66.38%)
Billy's Overall 2011 accuracy:
76-40 (65.51%)
AFS's Overall 2011 accuracy:
78-38 (67.24%)
Its official... after posting consecutive weeks of 12-1, 10-3, and now 11-2, the Simulator has finally not only caught up, but surpassed us mere mortals. It got off to the season shaky, but once new data started pouring in, the Simulator has been deadly accurate, predicting even some of the NFL's most surprising upsets. At least I was able to get over Billy again, but the race is still tight. The Simulator only leads me by a game, and I only lead Billy by a game. This season-long competition is far from over!
The Dolphins hope Dan Thomas can come back to help their upset chances.
Miami (0-7) @ Kansas City (4-3)
TheKillerNacho:
Kansas City is hot right now, and in Arrowhead Stadium, I see no hope for the visiting Dolphins. Once again, I expect the Dolphins to play the Chiefs very close. Kansas City is an overperforming team, while Miami plays teams close all season. But Kansas City as proven one thing that the Dolphins have not: They can overcome adversity in the final minutes to win football games.
Miami 20, Kansas City 23
Billy:
Miami 29, Kansas City 30
American Football Simulator:
Miami 19, Kansas City 24
Seattle (2-5) @ Dallas (3-4)
TheKillerNacho:
Dallas needs a rebound, and they SHOULD get it with Seattle coming to town. Seattle is one of the league's worst teams, and Dallas is playing a virtually must-win home game. Then again, the Seahawks were able to upset the division-rival Giants in New York, so anything's possible.
Seattle 13, Dallas 24
Billy:
Seattle 14, Dallas 35
American Football Simulator:
Seattle 20, Dallas 26
Tampa Bay (4-3) @ New Orleans (5-3)
TheKillerNacho:
The Saints should rebound here at home against the division rival Buccaneers, who embarrassed them in their last meeting. That's twice the Saints have been embarrassed in their last two games, since giving the Rams their first win of the season last week. I do not think the Saints will look past the Bucs at home.
Tampa Bay 17, New Orleans 28
Billy:
Tampa Bay 27, New Orleans 28
American Football Simulator:
Tampa Bay 25, New Orleans 27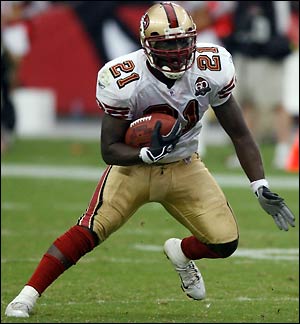 Frank Gore is back to his normal form, beware!
San Francisco (6-1) @ Washington (3-4)
TheKillerNacho:
Washington is in disarray, and the 49ers keep rolling. I expect the 49ers to continue with their momentum against a Washington team that is simply struggling on both sides of the ball. The 49ers defense should easily contain the now-terrible Redskins running attack (now that Tim Hightower is out for the year), while Frank Gore should abuse a beaten up Washington defense.
San Francisco 21, Washington 10
Billy:
San Francisco 33, Washington 22
American Football Simulator:
San Francisco 23, Washington 21
Cleveland (3-4) @ Houston (5-3)
TheKillerNacho:
Another easy game for the Texans here at home, they can't afford to look past the Browns. The Browns have been awful this season, their only wins coming against the league's worst teams (and not even that convincingly). Against one of the league's better teams, they should easily lose to the Texans.
Cleveland 12, Houston 24
Billy:
Cleveland 17, Houston 31
American Football Simulator:
Cleveland 23, Houston 27
Atlanta (4-3) @ Indianapolis (0-8)
TheKillerNacho:
Indianapolis is all sorts of bad, but they return home after two terrible road losses to face a team who may be overconfident. This could be a perfect storm for an upset of the Falcons, much like the Rams was for the Saints last week. Then again, probably not as the Colts have given up on the season, it seems.
Atlanta 27, Indianapolis 17
Billy:
Atlanta 27, Indianapolis 13
American Football Simulator:
Atlanta 28, Indianapolis 21
New York J (4-3) @ Buffalo (5-2)
TheKillerNacho:
Buffalo's hot, but so is the Jets. This is a crucial matchup to determine which of these two teams will be the favorites in a wildcard race, in my opinion. At home, I'll take the Bills, but a division matchup could go either way.
New York J 20, Buffalo 24
Billy:
New York J 20, Buffalo 29
American Football Simulator:
New York J 23, Buffalo 22
Chris Johnson continues to be nonexistant in the Titans O.
Cincinnati (5-2) @ Tennessee (4-3)
TheKillerNacho:
Call me crazy, but I'm going to take the overperforming Bengals again this week to defeat fellow-overperforming team, the Titans. The Titans are far inferior with a declining Chris Johnson and losing their best offensive player, Kenny Britt.
Cincinnati 20, Tennessee 17
Billy:
Cincinnati 24, Tennessee 14
American Football Simulator:
Cincinnati 21, Tennessee 24
Denver (2-5) @ Oakland (4-3)
TheKillerNacho:
John Fox confirmed that Tim Tebow remains the starter despite Denver's huge 45-10 loss against the Lions, another showing in which Tebow looked terrible in. Then again, the Quarterback situation in Oakland isn't much better with Boeller and Palmer throwing a combined 6 interceptions in their last game. However, I think the Raiders will be able to wear down the Broncos defense with Darren McFadden, while easily containing Tebow defensively.
Denver 14, Oakland 23
Billy:
Denver 17, Oakland 24
American Football Simulator:
Denver 19, Oakland 26
New York G (5-2) @ New England (5-2)
TheKillerNacho:
I don't know the stat, but I've rarely seen Bill Bellichick's Patriots lose coming off a loss. To add to this, the Patriots are great at home, so this is obviously a game with "Advantage: Patriots" written all over it. Plus, I'm sure the Patriots still are out for a little revenge due to the Giants ruining their undefeated season a few years ago, after all. Bellichick can hold a grudge.
UPDATE: It appears that Ahmad Bradshaw is out indefinitely with an injury he sustained against the Dolphins. This won't affect this game that much, as Eli Manning was going to be relied upon heavily to face the poor New England secondary anyway, but Brandon Jacobs has not run well for the Giants this season. This will hurt them quite a lot moving forward, but if you have Eli Manning this week in fantasy, he's a must-start in my opinion!
New York G 17, New England 28
Billy:
New York G 31, New England 38
American Football Simulator:
New York G 20, New England 24
Green Bay (7-0) @ San Diego (4-3)
TheKillerNacho:
At the beginning of the season, the showdown between Aaron Rodgers and Philip Rivers, two of the youngest premiere passers in the NFL, looked promising. However, Rivers has struggled while Rodgers is putting together one of the best seasons a Quarterback has put together, ever. Lets just say that the Pack is obviously the favorites here.
Green Bay 27, San Diego 24
Billy:
Green Bay 34, San Diego 21
American Football Simulator:
Green Bay 28, San Diego 23
St. Louis (1-6) @ Arizona (1-6)
TheKillerNacho:
This game may be one of the most unpredictable games all season. On the one hand, you have the Cardinals coming off a heartbreaking loss, playing at home. On the other, the Rams have won their first game of the season and look to build on that with Sam Bradford coming back. I like the Rams simply because I think the psychology will be in their favor, and they may be able to ride the momentum from the victory over the Saints.
St. Louis 21, Arizona 20
Billy:
St. Louis 26, Arizona 18
American Football Simulator:
St. Louis 24, Arizona 23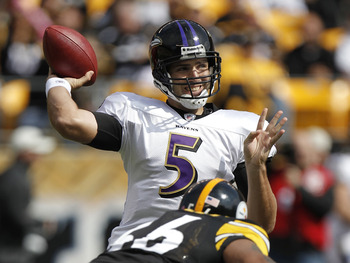 Can Flacco turn his season around against the Steelers? ... Unlikely.
Baltimore (5-2) @ Pittsburgh (6-2)
TheKillerNacho:
The Ravens may have abused the Steelers in the beginning of the season, but in Pittsburgh on Sunday Night football, this one may have a different ending. The Ravens have not played well away this season and the Steelers will be looking for revenge in primetime. I don't believe the Steelers are capable of blowing out the Ravens as the Ravens did to them, but I think this is one the Steel city should win... in typical Ravens vs Steelers football.
UPDATE: Contrary to a report last weekend that James Harrison would be able to come back vs Baltimore, it seems now that Harrison, LaMarr Woodley, and James Farrior will be OUT vs Baltimore. Without three of their best Linebackers, this game may shift back in favor of the Ravens.
Baltimore 24, Pittsburgh 23
Billy:
Baltimore 13, Pittsburgh 17
American Football Simulator:
Baltimore 24, Pittsburgh 22
Chicago (4-3) @ Philadelphia (3-4)
TheKillerNacho:
Chicago has had Philadelphia's number. Last season, they were one of the first teams to really figure out how to contain and beat Michael Vick. I don't expect this to change much here on Monday night. The Bears have simply been great against the Andy Reid-led Eagles. But this is a must-win for both teams, as they are directly competing for that elusive NFC Wildard.
Chicago 23, Philadelphia 21
Billy:
Chicago 17, Philadelphia 42
American Football Simulator:
Chicago 26, Philadelphia 25
Question of the Week
Last week, I asked my readers "
Which high-round rookie Quarterback will have the best NFL career?
" between the
Cam Newton (CAR), Christian Ponder (MIN), Andy Dalton (CIN), Blaine Gabbert (JAC
), or
Jake Locker (TEN)
.
Cam Newton
won this poll, as I expected, but with only 50% of the vote. Apparently, readers are also impressed with
Andy Dalton
and
Christian Ponder
, who received 25% each.
As with any season in which there are midseason winless and undefeated teams, there's going to be some question as to 16-0 or 0-16 campaigns. Today's question has to do with which is most likely... the question is "
Which scenario is most likely to occur?
" between the
IND going 0-16, MIA going 0-16,
or
GB going 16-0
. I'm a firm believer that it is harder to lose every game than win every game, so I am inclined to believe Green Bay going 16-0 is the most likely scenario. Indianapolis still has Jacksonville twice on their schedule, and Peyton Manning will fight to get back into the active roster. Meanwhile, Miami is bound to win an upset eventually, as there is talent on that squad. Aaron Rodgers is playing out of his mind right now, and if he keeps playing this way, I don't see how Green Bay falls to any teams on their remaining schedule.
Vote on the right-hand side of my blog!