While there are plenty of things to talk about, my Top 6 teams remain unchanged this week. Week 12 is special since it takes place on Thanksgiving, so we get to watch some Football as we're munching some turkey! Further, pretty much each Thanksgiving game is pretty significant, and will probably be good games: GB @ DET, MIA @ DAL, and SF @ BAL.
Biggest Winner
: Miami Dolphins (+5)
Biggest Loser
: Buffalo Bills (-5)
1. Green Bay Packers
(10-0,
+0
): They are still obviously #1, but for the first time all season, they didn't really appear dominant. Defensively, Tampa Bay was able to rip through them like a hot knife through butter, they couldn't stop the run or the pass. Offensively, Aaron Rodgers struggled a bit, and threw his fifth pick of the season. They now face an even tougher challenge this Thanksgiving, on a short week... going into Detroit.
2. New Orleans Saints
(7-3,
+0
): The Saints' bye didn't go exactly as they were hoping. The 49ers won, increasing their lead to 2 games for a first-round bye, and Atlanta also won, so they're still only a game back from the division lead. They face a critical Monday night matchup against the Giants, a game that both teams really want to win since it has massive playoff implications. With over a week of prep time, you have to like Drew Brees there.
3. San Francisco 49ers
(9-1,
+0
): The 49ers finally get into part of their fluffy division schedule, the Cardinals were absolutely no threat. However, they are one of the teams on a short week this week, as they play the Thanksgiving night game, going into Baltimore. Who will win the Harbaugh showdown? It'll be exciting to watch these brothers go at it!
4. Baltimore Ravens
(7-3,
+0
): The game was pretty close, but Baltimore was able to overcome not having Ray Lewis to defeat the Bengals, 31-24. Now, John Harbaugh will lead his team on a short week to play his brother, Jim, of the 1-loss 49ers. Man, all of the Thanksgiving games look to be awesome matchups (with playoff implications), I really can't wait!
5. Pittsburgh Steelers
(7-3,
+0
): During the bye, the Steelers lost the division lead thanks to Baltimore winning over Cincinnati. Since they lost twice to the Ravens, they don't control their AFC North destiny, but the Ravens are known to come out flat during some weeks, so there is still hope. They get Tyler Palko and the Chiefs next week.
6. New England Patriots
(7-3,
+0
): I don't really have much praise to give them after their 34-3 win, since it was against a completely decimated squad, and a guy named Tyler Palko (who?). The Chiefs brought pressure on Brady and had success early, but the lack of offensive success led the Chiefs to eventually run out of steam. The thing that concerns me most about the Pats is their injuries. Their defense may be able to stop Tyler Palko, but can they stop a legitimate passer?
7. Atlanta Falcons
(6-4,
+3
): The Falcons got back to what made them so successful last year, the ground and pound with Matt Ryan systematically orchestrating drives down the field. Without Julio Jones, Roddy White stepped up and had a good game, catching 7 passes for 147 yards. Defensively, they allowed Nate Washing two scores, which screwed me in Fantasy... but that was in garbage time against a rookie.
8. Houston Texans
(7-3,
+0
): How Matt Leinart will come out and play is anybody's guess, and he really holds the Texans' fate right now. They did get a gift during the bye, with Atlanta taking out Tennessee, and Leinart will get to start against one of the league's worst teams: the Jacksonville Jaguars. Leinart just needs to limit mistakes and ride the Arian Foster express to win football games.
9. New York Giants
(6-4,
-2
): Well, as I said last week, you can't take any NFC East matchup for granted. New York came out flat against the Vickless Eagles, really struggling offensively. Eli Manning completed just over half of his passes, and threw a pick while Brandon Jacobs managed just 1.8 yards per carry on his 12 carries. They'll need to play better going into a tough New Orleans environment next Monday night.
10. Chicago Bears
(7-3,
-1
):
Chicago won impressively over the Chargers, but sustained a key loss in that game, as well... Bears Quarterback Jay Cutler broke his thumb, which will require surgery. This will sideline the Quarterback likely for the rest of the regular season, but he may have a chance to come back come playoff time. Jay Cutler is very underrated, though, and their backups are well, not great... it's far from a given the Bears will be able to get a wildcard birth without him. Caleb Hanie will come in and attempt to replace him.
11. Detroit Lions
(7-3,
+1
): The Lions won the shootout with Cam Newton and the Panthers, picking off the rookie 3 times but also surrendering huge drives to him. The Lions turned the ball over 3 times in the 1st quarter, but Matt Stafford was able to look past his early mistakes to be flawless for the remainder of the game, throwing for 335 yards and 5 touchdowns. Kevin Smith, who once appeared to be the Lions RB of the future, but was signed off the street just 3 weeks ago, made an immediate impact. He appears to have returned too rookie form, giving the Lions something they really needed: a reliable Runningback. Now they will prepare for their exciting Thanksgiving matchup against the undefeated Packers.
12. Cincinnati Bengals
(6-4,
+1
): The Bengals may have lost, but I thought that they played impressively against the Ravens. After doubting them all season, I really think now that this team is legit. They will likely compete for the 2nd wildcard spot this season, and they may actually get it. But a loss to Pittsburgh and Baltimore puts their division hopes to rest.
13. Dallas Cowboys
(6-4,
+1
): The Cowboys beat the Redskins, but it wasn't anywhere near as close as it should have been... they required overtime and a missed Graham Gano field goal to pull off the victory. Now they have a short week to prepare for the red-hot Dolphins on Thanksgiving... and the Dolphins seem to like playing spoiler this season!
14. Oakland Raiders
(6-4,
+4
): It's anyone's guess as to how good the Raiders actually are, but Carson Palmer has really proven his doubters (myself included) wrong. He looked strong against the Vikings even with Michael Bush struggling running the ball against a tough Vikings front. Defensively, picking off the rookie Christian Ponder three times was a major help.
15. New York Jets
(5-5,
-4
): We all knew that coming off an emotional loss to play an unconventional offense on a short week would be tricky, but I was absolutely shocked and disgusted by the Jets 17-13 loss against Denver. The defense actually played pretty well, it was the offense's inability to score points that lost them the game. One of the more interesting theories I heard recently is that Peyton Manning may be a Jet next year... this would really help the Jets' chances at a championship.
16. Philadelphia Eagles
(4-6,
+3
): No Micheal Vick or Jeremy Maclin, but the Eagles were still able to upset the Giants on Sunday night. It seems Vince Young just wins... he has a scary good record as a starter, but that's not the reason the Eagles won this game. Juan Castillo's defense came up big, limiting the Giants to just 10 points. The Eagles defense, often criticized for its inability to deal with the run, held Brandon Jacobs to just 21 yards on his 12 carries. Is this change for real? Probably not, the Eagles always play the Giants tough... but you never know.
17. San Diego Chargers
(4-6,
-2
): The Chargers were beaten in all 3 phases against the Bears... they allowed some nice returns by Devin Hester, their defense could not stop Jay Cutler, and after a brilliant came, Rivers threw two 4th quarter picks to seal the deal. It's safe to say they have ruined their 4-1 start, with 5 straight losses. They are far from "done" in such a weak division, but next week's matchup against Denver becomes all the more important.
18. Tampa Bay Buccaneers
(4-6,
+2
): Tampa Bay was able to set up some good things against the undefeated Packers... LeGarrette Blount had one of his anomalous breakout games, Josh Freeman and Kellen Winslow were lighting up the Packers defense, but ultimately they fell to the Packers. At 4-6, their postseason hopes are all but done, but they aren't a bad team. They will compete for the rest of the year.
19. Tennessee Titans
(5-5,
-2
): Due to an injury to Matt Hasselbeck, we got to see the rookie, Jake Locker, who was quite impressive during his debut. He went 9/19 for 190 yards and two touchdowns to Nate Washington (who, as I mentioned earlier, killed me in fantasy). Hasselbeck's injury isn't severe, so he'll likely remain the starter. Chris Johnson went back to his irrelevant ways, earning just 13 yards on 12 carries. The Titans are now around where I expect them to finish this season, at .500.
20. Denver Broncos
(5-5,
+4
): The Tim Tebow magic continues, now being 4-1 as a starter. He still has not completed half of his passes in any contest, but his big-play and leadership is invaluable... I'm starting to believe in this kid... even though at the same time I expect him to fall on his face eventually. Right now, the Broncos are relying on good defense and a solid running game (part of which is credited to Tebow), but Tebow cannot compete in an NFL shootout.
21. Buffalo Bills
(5-5,
-5
): The Bills collapse is complete. After another bad week of injuries, the Bills fall to the lowly Dolphins by an outrageous score of 35-8 (Yes, the Bills got a safety). Ryan Fitzpatrick continues his poor streak, with two more picks, while Fred Jackson was limited to just 2.4 against the tough Miami run defense. Defensively, they can't stop a nosebleed. This just adds another season were the Bills started off strong, only to fall off.
22. Carolina Panthers
(2-8,
+0
): Cam Newton was able to bounce back... of course, when I say bounce back, I mean back to his big-play ways. He still threw three interceptions, but also had his normal massive yardage and touchdowns, in a shootout with Detroit. Despite a 27-14 lead at the half, however, the Panthers defense fell apart in the second half, eventually leading to a 49-35 loss. If only Newton had a defense around him like Tebow does...
23. Miami Dolphins
(3-7,
+5
): After losing their first 7 games, the Dolphins have now won 3 straight, outscoring their opponents by 86-20. They are really playing hard for head coach Tony Sparano, whose job is on the line. One really has to be impressed with Matt Moore, who is showing flashes of greatness as he did with the Panthers in 2009. I'm still not convinced that Moore is the real deal, but now that we're officially out of the Suck for Luck race, I'll enjoy watching a few more upsets this season.
24. Washington Redskins
(3-7,
+3
): I guess Rex Grossman really is the better choice. While once again, he made some key mistakes, his big play mentality allowed them to compete against Dallas, while John Beck's conservative mentality would've led to like, 3 points. The Redskins are probably done, though. They wasted their early season success by dropping to 3-7, all but killing them in the NFC East race.
25. Minnesota Vikings
(2-8,
-4
): I really liked what I saw from Christian Ponder in his first couple games, but he's really struggled recently, giving up more turnovers agaisnt Oakland. If not for those turnovers, they may have been able to come back and win against Oakland. They did get some good news after the game, as Adrian Peterson's X-rays came up negative, so he'll likely be able to play again this season (we'll know more after the MRI).
26. Arizona Cardinals
(3-7,
-3
): Well... so much for John Skelton being a better choice than Kevin Kolb. He was atrocious against San Francisco, being unable to move the ball at all. Beanie Wells continues to play hurt and continues to therefore play badly. This game killed any possible momentum they gained after their upset at Philadelphia. Hopefully for them, Kolb comes back next week.
27. Kansas City Chiefs
(4-6,
-2
): Obviously, Tyler Palko's debut did not go well... while he completed an impressive 25 out of 38 of his passes, it was only for 236 yards, no touchdowns, and he also threw three picks (Leading the Chiefs to a mere ... 3 points). This was against one of the worst secondaries in Pro Football. Things won't get easier for Palko as he plays the Pittsburgh Steelers next week. Meanwhile, the Chiefs defense was able to get pressure on Brady early but eventually they wore down as New England was able to put up 34. Yikes.
28. Seattle Seahawks
(4-6,
+2
): The Seahawks may be one of the least talented teams in the NFL, but Pete Carroll does indeed know how to motivate his troops. They were able to come out and destroy division rival St. Louis 23-7. The Seahawks defense has played well this season, and Marshawn Lynch's running style continues to wear down opponents. The Seahawks can win more games this season.
29. Cleveland Browns
(4-6,
+2
): The Browns won, which is a nice sign. With Peyton Hillis and/or Montario Hardesty close to coming back, they could give some teams some trouble... then again, their remaining schedule is absolutely brutal, so don't be surprised if the Browns go 4-12. Unfortanutely for them, they don't get to play the Jacksonville Jaguars every week.
30. Jacksonville Jaguars
(3-7,
-4
): Blaine Gabbert may be the worst starting Quarterback in the National Football League... yes, worse than the no-name Tyler Palko and pansy Curtis Painter. He continues to not lead his offense to points, despite having one of the better rushers this season, Maurice Jones-Drew. They remain the Colts' best chance at a win this season.
31. St. Louis Rams
(2-8,
-2
): Well, this loss kills their chances this season. Going against a fellow crappy NFC West team, they could not get anything going offensively after Brandon Lloyd's initial touchdown pass. Bradford would go on to complete only half of his passes, while Steven Jackson managed only 2.8 yards per carry. Defensively, they played decent football but this team is too inconsistent to be considered very good.
32. Indianapolis Colts
(0-10,
+0
): Don't know what really to say here, since the winless Colts had a bye week. I guess I'll put it out there that the Colts are not *technically* eliminated yet from playoff contention. They could actually win the 6th wildcard spot if they win out and get A LOT of help. While I would LOVE to see this, I'm not holding my breath. Then again, Eli Manning did say this week that he expects his brother Peyton to play this year... hmm... By the way, here's an awesome simple site for viewing each of the NFL's 32 teams' playoff status:
http://www.playoffstatus.com/nfl/nfl.html
Predictions for Next Week
TKN's accuracy, Last week:
9-5 (64.29%)
Billy's accuracy, Last week:
11-3 (78.57%)
AFS's* accuracy, Last week:
9-5 (64.29%)
TKN's Overall 2011 accuracy:
102-58 (63.75%)
Billy's Overall 2011 accuracy:
105-55 (65.63%)
AFS's* Overall 2011 accuracy:
103-57 (64.38%)
*American Football Simulator averages of 2,000 simulations.
While last week was a very good week for me at 9-5, as you can see, Billy continues to make ground with an impressive 11-3 prediction record last week. Maybe I'm due for some Thanksgiving luck, however!
Matt Stafford hopes to deliver the Pack their first loss on Thanksgiving.
Green Bay (10-0) @ Detroit (7-3)
TheKillerNacho:
This is, quite possibly, the most dangerous game for Green Bay on their remaining schedule. They are coming off their most problematic game of the season. It is a short week, against a legitimate divison-rival, in front of a national Thanksgiving audience. Furthermore, Kevin Smith is back with a fury... and Green Bay surrendered quite a game to LeGarrette Blount last week... Having said all this, it would be utter stupidity to pick against Aaron Rodgers this season.
Green Bay 28, Detroit 27
Billy:
Green Bay 35, Detroit 37
American Football Simulator:
Green Bay 26, Detroit 21
Miami (3-7) @ Dallas (6-4)
TheKillerNacho:
Miami is red-hot, but unlike their last three opponents, Dallas is not in a state of total collapse. I see Dallas winning this game, but then again, I picked against Miami the last three weeks too... I'll definatly be rooting for them on Thanksgiving while munching on some delicious Turkey! Nom nom nom!
Miami 23, Dallas 27
Billy:
Miami 20, Dallas 29
American Football Simulator:
Miami 22, Dallas 26
San Francisco (9-1) @ Baltimore (7-3)
TheKillerNacho:
Game of the week, right here... Harbaugh against Harbaugh. At home, I really like the Ravens, since they play much better at home, but this game could go either way. The Ravens would have a much better chance if they get MLB Ray Lewis back for this one. Unfortanutely, this game is an NFL Network game, so we'll have to deal with inept Sunday Night Football announcers... sigh.
San Francisco 17, Baltimore 20
Billy:
San Francisco 25, Baltimore 19
American Football Simulator:
San Francisco 21, Baltimore 25
Buffalo (5-5) @ New York J (5-5)
TheKillerNacho:
Both of these teams have disappointed in recent weeks, but the Jets are the far better team right now. The Bills are decimated by injury, and Ryan Fitzpatrick has sucked since. The Jets may not be a playoff caliber team, but they should be able to defeat Buffalo.
Buffalo 13, New York J 17
Billy:
Buffalo 12, New York J 47
American Football Simulator:
Buffalo 21, New York J 26
Arizona (3-7) @ St. Louis (2-8)
TheKillerNacho:
Honestly, I think this game depends on whether Kevin Kolb will be ready to go. If Kolb plays, I like the Cardinals since I think he'll be able to get some big plays going to Larry Fitzgerald. If not, I'll take the Rams... look for this pick to change mid-week, but I'm assuming Kolb will be ready to go.
UPDATE: Kevin Kolb will be out against the Rams, so I guess the Cards "aren't in the cards". I'm taking the Rams.
Arizona 21, St. Louis 23
Billy:
Arizona 16, St. Louis 20
American Football Simulator:
Arizona 22, St. Louis 26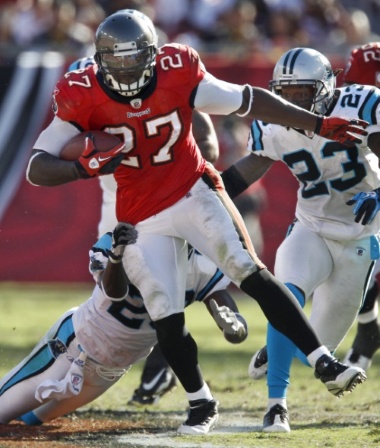 Can Blount and the Bucs build off their success @ GB?
Tampa Bay (4-6) @ Tennessee (5-5)
TheKillerNacho:
This Buccaneers team got some confidence, playing well against the undefeated Packers. Meanwhile, this Titans team continues to struggle after its strong start. If they lose this one, which I suspect they will, they will be all but out of the division race against Houston.
Tampa Bay 24, Tennessee 20
Billy:
Tampa Bay 23, Tennessee 18
American Football Simulator:
Tampa Bay 24, Tennessee 26
Carolina (2-8) @ Indianapolis (0-10)
TheKillerNacho:
One of the Colts' better opportunities to get a Win, since Carolina's defense has played awful this season. At the same time, I don't see any way in hell the Colts will stop Cam Newton, so I'm not going to pick the upset here, sorry.
Carolina 27, Indianapolis 20
Billy:
Carolina 24, Indianapolis 10
American Football Simulator:
Carolina 25, Indianapolis 24
Minnesota (2-8) @ Atlanta (6-4)
TheKillerNacho:
The Vikings' Christian Ponder has struggled recently, and while Adrian Peterson's X-Rays came up negative, he's still questionable to play. Meanwhile, Atlanta plays very well at home, and is coming off a big win after getting some things together. I look for them to continue their success against the visiting Vikings.
Minnesota 16, Atlanta 26
Billy:
Minnesota 13, Atlanta 27
American Football Simulator:
Minnesota 19, Atlanta 26
Cleveland (4-6) @ Cincinnati (6-4)
TheKillerNacho:
Cincinnati has the potential to be a wildcard team, but it must start here at home by defeating the visiting Browns. Obviously, we know the Bengals can win, but division games are never easy.
Cleveland 10, Cincinnati 21
Billy:
Cleveland 6, Cincinnati 28
American Football Simulator:
Cleveland 20, Cincinnati 22
It's Leinart's turn in Houston... what will come of it?
Houston (7-3) @ Jacksonville (3-7)
TheKillerNacho:
Matt Leinart gets a pretty easy first matchup, against a Jaguars team that couldn't even beat the Browns. Still, its a division game and the Jaguars defense is quite good against the run, so Leinart may need to rely more on his passing abilities than in most contests... still, Houston is the obvious pick.
Houston 23, Jacksonville 14
Billy:
Houston 34, Jacksonville 13
American Football Simulator:
Houston 24, Jacksonville 23
Washington (3-7) @ Seattle (4-6)
TheKillerNacho:
Washington continues to fall apart, and now travels west into a very hostile environment. Seattle keeps getting wins, and I think they may be able to continue here. Rex Grossman makes this game a real toss-up, however. If good Rex appears, the Seahawks don't have a prayer... but if bad Rex appears, the Seahawks will likely blow the Redskins out.
Washington 20, Seattle 21
Billy:
Washington 9, Seattle 17
American Football Simulator:
Washington 21, Seattle 20
Chicago (7-3) @ Oakland (6-4)
TheKillerNacho:
Replacing Jay Cutler, we get to see ... Caleb Hanie. Hanie is athletic and has good arm strength, but he's not a good decision maker and with a bad offensive line and receiving corp, won't perform anywhere near Jay Cutler's level. Meanwhile, the Raiders are hot and playing at home. Coming off a 3 interception day against Minnesota, they look to once again take advantage of an inexperienced Quarterback.
Chicago 16, Oakland 21
Billy:
Chicago 21, Oakland 30
American Football Simulator:
Chicago 22, Oakland 24
New England (7-3) @ Philadelphia (4-6)
TheKillerNacho:
Philadelphia may have been able to upset the Giants, but the Patriots are another story. Vick may play, but reports say that he won't be rushed back into the starting lineup, meaning we'll likely see Vince Young again. Young had three picks against New York, so I doubt he'll be able to abuse the Patriots' secondary weakness. Look for the Patriots to win against the Eagles.
New England 27, Philadelphia 21
Billy:
New England 38, Philadelphia 28
American Football Simulator:
New England 26, Philadelphia 24
Last time, Tebow almost orchestrated a fourth-quarter comeback against SD...
Denver (5-5) @ San Diego (4-6)
TheKillerNacho:
Tebow gets to play against San Diego, the same opponent he faced when he was put in for Kyle Orton, giving him a chance as the starter. Will Tebow be able to extend his record to 5-1 as a starter? As much as I fear picking against him, San Diego should win this at home.
Denver 16, San Diego 20
Billy:
Denver 26, San Diego 22
American Football Simulator:
Denver 21, San Diego 27
Pittsburgh (7-3) @ Kansas City (4-6)
TheKillerNacho:
Tyler Palko going against the Pittsburgh defense? Yeah, I'll pass on this one. Kansas City's going to get destroyed.
Pittsburgh 26, Kansas City 9
Billy:
Pittsburgh 31, Kansas City 13
American Football Simulator:
Pittsburgh 24, Kansas City 15
New York G (6-4) @ New Orleans (7-3)

TheKillerNacho:
Big Monday Night game for both teams, but at home, this is one the Saints should win. The Giants looked weak against Philadelphia, but they aren't as bad as they played, so the Saints better bring their A game. The Giants hope to get Ahmad Bradshaw back from injury, he would be a big upgrade over Jacobs.
New York G 26, New Orleans 28
Billy:
New York G 14, New Orleans 51
American Football Simulator:
New York G 24, New Orleans 25
Question of the Week
Last week, I asked my readers "
How will Aaron Rodgers' career stack up compared to the all-time greats?
" between
Greatest of all time, Top 5, Top 10
,
Top 20,
or
Not in Top 20
. The poll seems to have been bugged, since only one registered vote remains, despite the fact that I saw 9 votes earlier this week... I can't give the exact numbers, of course, but I think the largest category I saw was "Top 5", with a couple voters thinking he would be the greatest of all time. No one from my memory voted that he would be out of the Top 20. Interesting...
Its almost time for Thanksgiving! This week's question is "
Which is your favorite part of Thanksgiving?
" between
Food, Family, Friends,
or
Football
? While I love all of these things... How can you vote against Football with the great Thanksgiving matchups we have this year??
Vote on the right-hand side of my blog!