There weren't many major surprises in Week 5 for me, but there were a ton of good headlines. Between the Colts' heart-warming comeback against the Packers and the Saints' first win in which Brees broke the long-standing consecutive touchdown pass record, it was an exciting Week 5. Lets look forward to Week 6, now.
Biggest Winner
: Indianapolis Colts (+9)
Biggest Loser
: Arizona Cardinals (-6)
1. Houston Texans
(5-0,
+0
): The Texans beat the Jets pretty convincingly last night as expected, but it came at a steep price. Brian Cushing, arguably one of their best defensive players, was diagnosed with a torn ACL after leaving the game early. The Texans defense should take a step back, as Cushing is undoubtedly one of the best Inside Linebackers in the NFL. If there is one team that can overcome this loss, however, its the Texans.
2. Atlanta Falcons
(5-0,
+0
): The Falcons didn't really take control of the game against the Redskins until Robert Griffin III went down with injury, which concerns me, but they still got a win in a hostile away environment. Matt Ryan seemed to be stumped early against a depleted Washington defense but stepped up in the 2nd quarter to lead them to a 24-17 win. The Falcons defense looked good in all phases, easily getting turnovers from Kirk Cousins.
3. San Francisco 49ers
(4-1,
+1
): The 49ers have responded well to their one loss. This week, they dismantled the visiting Bills by a score of 45-3, putting to rest talk that the 49ers were in decline from a season ago. 45-3 is a complete victory in all three phases. The Niners averaged more than 7 YPC with their top two Runningbacks, Frank Gore and Kendell Hunter while Alex Smith tossed three touchdown passes.
4. Baltimore Ravens
(4-1,
-1
): Well, they got the ever-important win at Kansas City last weekend but they looked a lot less dominant than Ravens fans would've liked. The Ravens offense struggled mightily, failing to get into the endzone all game. In my opinion, Cam Cameron is simply too dependent on the pass... Ray Rice was averaging 6 yards per carry, but they insisted on passing (ineffectively) with Joe Flacco. At least their defense limited the Chiefs to a mere 6 points.
5. New England Patriots
(3-2,
+0
): This year's Brady-Manning battle was a bit more one-sided than we were used to seeing. While the Broncos were able to get back in the game late, the 31-7 lead they obtained was more than enough to coast to a victory. The Patriots continue to play well on both sides of the ball, and are a dangerous team this year... as usual. Of course, they have something this year that they didn't have in quite a long time: an effective running game to help Tom Brady.
6. Chicago Bears
(4-1,
+3
):
After an early interception by Jay Cutler, it was all Bears all game long. The Bears massacred the Jaguars in their own house, defeating them 41-3. While the Jaguars have been pushed around all season, it was easily their worst defeat this season. The Bears defense could be the best in Football (yes, even better than the Texans). They bamboozled the Jaguars offense for 2 interceptions, 3 sacks, 1 fumble recovery, and 2 defensive touchdowns.
7. New York Giants
(3-2,
-1
): Early in Sunday's matchup against the Browns, the Giants appeared to be in trouble, falling behind 14-0 early. They were easily able to remedy that by scoring 20 in the second quarter, coming back to a 27-17 halftime lead. Victor Cruz caught three touchdowns in Week 5, but that is easily a side-story compared to the Giants finally establishing the running game. Bradshaw went for 200 yards (6.7 YPC) and a touchdown. This is a good sign for a team whose largest weakness was that they couldn't run the ball well.
8. Pittsburgh Steelers
(2-2,
+3
): Ben Roethlisberger struggled against a tough Eagles defense, but the Steelers were able to find a win, which is a good sign for the struggling club. Their defense finally stepped up and abused a mistake-prone Eagles offense, limiting them to just 14 points. Mendenhall looked good in his return from injury, running for 81 yards on just 14 carries, and scoring the Steelers' only touchdown. The Steelers have to get better on offense but the defense seems to be getting back on track.
9. Green Bay Packers
(2-3,
-1
): Last Sunday's 27-30 loss to the Colts was the textbook definition of a complete collapse. In the first half, it looked to be a Packers blowout, as the Packers led 21-3 at halftime. In the second half, it went completely downhill for the Packers as they were only able to score a single touchdown while the Colts scored 27 second-half points against your defense. The Packers' second-half performance was unacceptable considering the fact that the Packers desperately need wins to catch up to Minnesota and Chicago, now both 4-1. To make matters worse, the Packers found out they would be without Cedric Benson for the rest of the year, making their already-poor running attack even worse.
10. San Diego Chargers
(3-2,
+3
): The Chargers lost, but its hard to defeat a team like the Saints under those conditions. The Saints were at home; Hungry for a win at 0-4; Drew Brees was playing to break an NFL record; The suspended Sean Payton, Joe Vitt, and Micky Loomis were all in attendance. The psycology all pointed to a Saints victory. Despite losing, the Chargers went down with a fight. Ryan Mathews returned to his normal workload (despite still being in a committee), running for 80 yards and a touchdown. Philip Rivers threw for over 350 yards and two touchdowns. Chargers fans shouldn't worry, they are still the class of the AFC West.
11. Minnesota Vikings
(4-1,
+5
): Are the Vikings really as talented as 4-1? I still have my doubts. But one thing for sure is that this squad aren't pushovers this year. They dominated the Titans 30-7, just as a good team should against a bad team. The Vikings are a dangerous team with a dynamic offense and much-improved defense from just one year ago. While I do see them falling off a bit, the Vikings are a strong contender this season for a wildcard spot. They have proved that much.
12. Denver Broncos
(2-3,
+0
): If there is one player who could be blamed for last Sunday's loss to the Patriots, its Willis McGahee, a back usually known for his reliability. In the 4th quarter when it appeared the Broncos were making a push to get back in the game, he dropped an easy pass on 4th down. Later, he would fumble the ball away in the redzone, all but sealing the Broncos' fate. The good news for Denver is that they can still take the division lead, as they play the division-leading Chargers next Monday night.
13. Arizona Cardinals
(4-1,
-6
): Their horrible offensive line finally came back to haunt them on Thursday night against the rival Rams. Kevin Kolb was sacked an outrageous nine times in Arizona's pitiful 17-3 loss. To add injury to insult, Ryan Williams, who also missed all of last year due to injury, tore his ACL, ending his season for the second straight year. With Beanie Wells also on IR, the Cardinals are dangerously thin in the backfield. And the Free Agent pool is thin.
14. Dallas Cowboys
(2-2,
-1
): The Cowboys were on bye, but were relatively happy with Week 5, seeing the Eagles and Redskins lose. Dallas doesn't get an easy one coming off their bye, however... they must travel to Baltimore to take on the 4-1 Ravens. The good news is that if Sunday were any indication, Dallas's defense ought to be able to slow down the Ravens' offense. But Tony Romo, coming off a three-interception game in Week 4, has a hard matchup against the Baltimore defense.
15. Seattle Seahawks
(3-2,
+2
): Going into Carolina and limiting Cam Newton to under 200 total yards and 12 points is impressive. Seattle's defense has impressed all season long, and being the Seahawks aren't usually a team that travels well, it was a good sign to see them winning on the East coast. Despite throwing two interceptions, Russell Wilson looked better in this game, as he was more accurate and threw for over 200 yards and a touchdown himself in the third quarter.
16. Philadelphia Eagles
(3-2,
-2
): The Eagles' offensive woes continued in Week 5, keeping up with their turnovers in a close 16-14 loss. While the Eagles defense has played very well, the Eagles are going to struggle trying to win when your Quarterback has no pocket presence and gives the ball away in the redzone. This team is lucky to be over .500... they could easily be 0-5 right now.
17. Cincinnati Bengals
(3-2,
-2
): Cincinnati was exposed by the Dolphins in their 17-13 loss on Sunday. This Bengals team has a lot of woes that will keep it from being a real contender this season. For one, Andy Dalton is struggling somewhat in his second year as a starter. But more importantly, the Bengals linebacker corps has been horrid since Thomas Howard went down due to injury. Rey Maualuga has been a huge disappointment for this team. They have to stack the box to stop the run, but then any accurate Quarterback can pick them apart.
18. St. Louis Rams
(3-2,
+5
): I'm actually really high on this club right now... Jeff Fisher has this team playing good, hard football and their first trip to being over .500 was well-deserved. The only thing that keeps me from ranking them higher is Danny Amendola's scary clavicle injury that will sideline him for up to eight weeks. This is a major blow as Amendola is clearly their best receiver and Sam Bradford's go-to receiver. Their other receivers including rookie Brian Quick and veteran Steve Smith will have to step it up if they want to remain over .500 against the Dolphins in Week 6.
19. Washington Redskins
(2-3,
+0
): I wonder if Kirk Cousins' play makes Washington wish they had kept John Beck or Rex Grossman to be Griffin's backup instead? Cousins was put in a close game but threw two picks to virtually end Washington's hope to upset the Falcons. Still, credit Washington's defense, which is playing quite well despite injuries. Obviously, the Redskins' success will hinge on whether or not Griffin will be ready to go against the Vikings in Week 6.
20. Indianapolis Colts
(2-2,
+9
): After falling behind 21-3 at the half against a tough Packers team, Andrew Luck showed everyone why he was drafted 1st overall. Luck battled back, leading his team to 27 second-half points to overcome the Packers, 30-27. Luck threw for over 360 yards and two touchdowns. This is a Colts team that used emotion and passion in the second half, playing for their head coach Chuck Pagano, who is currently hospitalized with leukemia. If this Colts team continues to play with the passion they showed last Sunday, they can play with anyone.
21. New Orleans Saints
(1-4,
+3
): If you thought there was any team more hungry for a win, you'd be wrong. The Saints finally got a win at home against a tough Chargers game, a game in which Drew Brees broke a long-standing NFL record. This goes to show you how important suspended head coach, Sean Payton, who was allowed to attend this game to witness Brees' historic game, is to this ball club. Just him being there made his players want to play their hardest. If this Saints team can hold onto the momentum they created on Monday night, we may see a rare 0-4 turn-around.
22. Buffalo Bills
(2-3,
-4
): On paper, this Bills' defensive line looks good. Mario Williams has been one of the more successful pass rushers in the NFL... Kyle Williams is one of the best nose tackles in football and Marcell Dareus is a defensive tackle loaded with talent. It is baffling, therefore, how the Bills have become inept stopping the run in the last two games. And they can't really stop the pass, either. Their big free agent acquisition, Mario Williams, has only a sack and a half all year. Meanwhile, Ryan Fitzpatrick is not nearly good enough to make the Bills competitive offensively - he's been a turnover machine.
23. Detroit Lions
(1-3,
-3
): The only good thing that happened to the Lions on their bye week was seeing the Green Bay Packers fall to the Indianapolis Colts. Its unfortunate for them that it doesn't help them at all, as both the Bears and Vikings are sitting at 4-1. This Lions team has been a major disappointment after shocking the league and going 10-6 a season ago. They travel to Philadelphia and play an Eagles team with a struggling offense. Unfortunately for Detroit, this Lions defense has been equally bad (if not worse)...
24. Tampa Bay Buccaneers
(1-3,
-3
): Tampa Bay had a week to think about their last three losses, all close losses to NFC East opponents. With the Falcons now 5-0, their chances at the division look slim. And their quest for a wildcard spot in a tough NFC, even slimmer. But they can help their chances by coming out strong against the Chiefs in Week 6. The Bucs schedule for the next few weeks seems manageable... its due or die for this young team.
25. New York Jets
(2-3,
+0
): The Jets played hard on Monday night against the Texans but still weren't able to squeak out a win against the undefeated Texans. The good news for the Jets is that the defense looked to have some answers, and Antonio Cromartie stepped up and covered Andre Johnson well. The bad news is that Mark Sanchez is still, well, Mark Sanchez. And their receiving corp sucks. It seemed like every time Tim Tebow walked on the field, the crowd cheered and whenever he left, there were boos. Rex Ryan knows that once he sends Tebow in as the starter, Sanchez's career in New York is over. But I don't think that's really a bad thing... Tebow obviously gives the Jets the best chance to win games at this point, he's a playmaker.
26. Miami Dolphins
(2-3,
+1
): After two overtime losses, the Dolphins finally did what they weren't able to do the last two weeks: finish. This Dolphins team has been playing very good football under Joe Philbin. The defense gets constant pressure thanks to DE Cam Wake, who has now 5.5 sacks on the year. They are even better against the run, limiting BenJarvus Green-Ellis to just 14 yards in Week 5. Ryan Tannehill looks better every week with his ability to stand in the pocket and throw accurate balls, and was mistake-free against the Bengals.
27. Carolina Panthers
(1-4,
-5
): What's wrong with Cam Newton? I kind of figured he would have a sophomore slump but I never thought it would be this bad. Newton could not stay on the field in Carolina's 16-12 loss at home to the Seahawks in Week 5. And unlike last season, its not because of their defense, its about their offense. The Panthers will have a hard time competing with anyone playing like this.
28. Kansas City Chiefs
(1-4,
-2
): Chiefs fans cheered when they saw Matt Cassel go down to injury in their 9-6 loss to the Ravens in Week 5. While that's a bit extreme, I don't see how Brady Quinn could do much worse than Cassel, who has had a 66.2 passer rating in the first five games. With Quinn likely to start in Week 6 against the Bucs, he can at least rely on Jamaal Charles, who continues to look "back to form", in his quest to show what he can do as an NFL starter.
29. Oakland Raiders
(1-3,
+1
): The Raiders needed this bye week to try to address their problems on both sides of the ball. I don't think we'll see much improvement in Week 6, however, with the Raiders set to travel to Atlanta to face the undefeated Falcons. In order to have a chance, the Raiders need to establish a successful running game with Darren McFadden, to give Carson Palmer a chance to work from the pocket. Meanwhile, the Raiders defense has to hold strong and stop a dynamic Falcons offense. Its a long-shot.
30. Jacksonville Jaguars
(1-4,
-2
): After a promising start, Blaine Gabbert has quickly returned to 2011 form, failing to produce at all against the Bears in Week 5. Despite an early turnover given to them by their defense, the Jaguars offense scored a mere 3 points... Gabbert threw 2 interceptions himself. Since the Jaguars fell behind early again, Maurice Jones-Drew only saw 12 carries. I wouldn't be shocked if Jones-Drew went on the trading block... the Jaguars aren't going to go anywhere anytime soon and Jones-Drew could draw a couple high-round draft choices from a Runningback-needy contender. They may be best off trading their disgruntled Pro Bowl Runningback.
31. Tennessee Titans
(1-4,
+0
): I guess we now see why Jake Locker won the job over Matt Hasselbeck in pre-season. Then again, lets not forget the Titans offense has looked completely inept in every game except one this year (against the pitiful Detroit defense). As expected, Chris Johnson got back to his inept ways against the Vikings, running for a mere 1.6 YPC. While its not completely his fault due to the Titans' poor run-blocking, Johnson is done as a Titan at the end of this season, I'm convinced. It won't get easier against the Steelers on Thursday night.
32. Cleveland Browns
(0-5,
+0
): After getting to an early 14-0 advantage over the Giants, the Browns' upset dreams were savagely crushed by the Giants in the second quarter, as the Giants scored 20 points for a halftime and eventual final lead. After Weeden's 62 yard touchdown pass to Josh Gordon in the 1st quarter, he wasn't able to get anything else going until it was too late, throwing two interceptions to the Giants defense. Their defense gave up three touchdown passes to Victor Cruz in that game. The Browns, while spewing hope, are still the worst team in football.
Predictions for Week 2
TKN's last week accuracy:
10-4 (71.43%)
Billy's last week accuracy:
9-5 (64.29%)
AFS's* last week accuracy:
12-2 (85.71%)
TKN's Overall 2012 accuracy:
45-32 (58.44%)
Billy's Overall 2012 accuracy:
42-35 (54.54%)
AFS's* Overall 2012 accuracy:
52-25 (67.53%)
*American Football Simulator averages of 2,000 simulations.
Another week... another week where the Simulator spanked us at predicting games. Despite a good week for me, going 10-4 in my picks, and a solid week from Billy, going 9-5, the Simulator went an outrageous 12-2 in Week 5, only losing on the Colts and Dolphins. Me and Billy have a lot of work to do if we're going to catch up... the simulator has a 7-game lead on me, and a 10-game lead on Billy.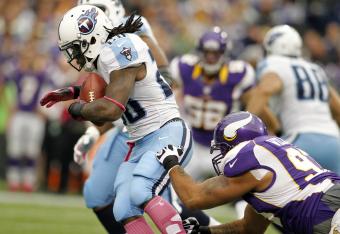 Chris Johnson should continue to struggle vs PIT.
Pittsburgh Steelers (2-2) @ Tennessee Titans (1-4)
TheKillerNacho
: The Titans have one of the most inept offenses in football, while the Steelers have one of the best defenses in football. This really shouldn't be close. NFL Network is trying to hype up the battle between Ben Roethlisberger and Chris Johnson... but we all know who is going to win that "battle". I wouldn't bet on Chris Johnson getting more than 2 YPC here.
Pittsburgh 24
, Tennessee 10
Billy:
Pittsburgh 26
, Tennessee 17
American Football Simulator:
Pittsburgh 25
, Tennessee 21
Kansas City Chiefs (1-4) @ Tampa Bay Buccaneers (1-3)
TheKillerNacho
: The Buccaneers are at home, coming off a bye. That alone gives them a major psychological advantage. Still, Chiefs QB Brady Quinn will get to step in for the inept Matt Cassel due to injury, and one has to believe Quinn will be looking to prove he can be the long-term starter in Kansas City. This is his first real chance since the poor situation he was in with the Browns. While Jamaal Charles should help keep it close, I'll go with the Bucs.
Kansas City 17,
Tampa Bay 20
Billy:
Kansas City 11,
Tampa Bay 20
American Football Simulator:
Kansas City 23,
Tampa Bay 25
Indianapolis Colts (2-2) @ New York Jets (2-3)
TheKillerNacho
: The Colts want to continue their streak of emotion that helped them beat the Packers in Week 5. The Jets are a team that is struggling after injuries and inept offensive play. While the Colts could certainly take this game, I think its one the Jets will probably win. Unfortunately.
Indianapolis 23,
New York J 24
Billy:
Indianapolis 27
, New York J 10
American Football Simulator:
Indianapolis 20,
New York J 23
Cincinnati Bengals (3-2) @ Cleveland Browns (0-5)
TheKillerNacho
:While I could see the Browns getting their first win in the Battle of Ohio, the Bengals really want a win so that they can keep up with Baltimore and fend off Pittsburgh in the AFC North. Further, since these cities are so close to eachother and the Browns are 0-5, I expect as many Bengals fans to be in the crowds as Browns fans. I expect Cincinnati to win this.
Cincinnati 21
, Cleveland 16
Billy:
Cincinnati 23
, Cleveland 20
American Football Simulator:
Cincinnati 20,
Cleveland 21
Vick finally catches a break with a match-up against DET.
Detroit Lions (1-3) @ Philadelphia Eagles (3-2)
TheKillerNacho
: It seems the only unit more inept that the Eagles' offense this season has been the Lions' defense. The Lions defense gave up 44 points to the Titans of all teams... the TITANS. If there is any team in the league that Michael Vick can have a solid game against, its the Lions and their horrid secondary. Look for the Eagles to give their fans misguided hope here with a win.
Detroit 23,
Philadelphia 28
Billy:
Detroit 20,
Philadelphia 24
American Football Simulator:
Detroit 24,
Philadelphia 27
Oakland Raiders (1-3) @ Atlanta Falcons (5-0)
TheKillerNacho
: This one is simple. The Raiders have been bad on both sides of the ball, the Falcons have been outstanding. Furthermore, the Falcons are at home and the Raiders have to travel east for a 1:00 game. Hmm... who to choose...
Oakland 13,
Atlanta 27
Billy:
Oakland 22,
Atlanta 47
American Football Simulator:
Oakland 22,
Atlanta 27
St. Louis Rams (3-2) @ Miami Dolphins (2-3)
TheKillerNacho
: This is actually a game I feel confident about as a Dolphins fan. The Rams will struggle without their #1 wide out, Danny Amendola and the Dolphins defense will put a lot of pressure on Sam Bradford. Meanwhile, the Dolphins ought to be able to establish the run against the Rams which will hopefully open the passing game up for Ryan Tannehill. This is a game I think the Dolphins should be favored. Of course, nothing is guaranteed for the Dolphins.
St. Louis 19,
Miami 22
Billy:
St. Louis 19
, Miami 16
American Football Simulator:
St. Louis 22
, Miami 20
Dallas Cowboys (2-2) @ Baltimore Ravens (4-1)
TheKillerNacho
: The Cowboys are coming off their bye, but one got the impression in the Ravens' game against the Chiefs that the Ravens may have looked forward to this game, overlooking the Chiefs. If that is the case, the Ravens will be well-prepared for the Cowboys' defense. Still, this will be a close defensive battle. But I'm giving the edge to the Ravens at home.
Dallas 20,
Baltimore 23
Billy:
Dallas 14,
Baltimore 30
American Football Simulator:
Dallas 24,
Baltimore 28
The Bills defense needs to improve.
Buffalo Bills (2-3) @ Arizona Cardinals (4-1)
TheKillerNacho
: The Bills don't get a break, as they get to travel to Arizona the week after traveling to San Francisco. The Cardinals defense is just as tough as the 49ers'. Of course, the Bills may be able to stop the run this week as the Cardinal's offensive line is as bad as the Bills' defensive line has been playing, and the Cardinals are depleted in the backfield. The Cardinals should find a way to win, though.
Buffalo 21,
Arizona 24
Billy:
Buffalo 6,
Arizona 15
American Football Simulator:
Buffalo 25
, Arizona 24
New England Patriots (3-2) @ Seattle Seahawks (3-2)
TheKillerNacho
: This will actually be a tough game for the Patriots, but one that they should win. The Seahawks' defense has been top-notch and are especially good at home. The Patriots running game which has been so good the last two games will have their hands full. But when your team still has Tom Brady and the opponent's Quarterback is Russell Wilson, its hard to bet against the Pats.
New England 24
, Seattle 23
Billy:
New England 20,
Seattle 26
American Football Simulator:
New England 25
, Seattle 22
New York Giants (3-2) @ San Francisco 49ers (4-1)
TheKillerNacho
: This is a great battle against two class NFC teams. The 49ers are the home team, however, and the slightly better one. While its hard to ever bet against Eli Manning when the Giants are being put in a position of doubt, my instinct is the 49ers will smother the Giants' running game and Eli Manning will make a couple mistakes. Meanwhile, Alex Smith should do well against an average Giants secondary.
New York G 24,
San Francisco 26
Billy:
New York G 20,
San Francisco 31
American Football Simulator:
New York G 21,
San Francisco 25
Minnesota Vikings (4-1) @ Washington Redskins (2-3)
TheKillerNacho
: All indications are that Robert Griffin III should be able to play in Sunday's game against the Vikings, but this game could get out of hand if he misses it. I think that Adrian Peterson will find ways to score points against a battered Washington defense, enough plays to get a close victory.
Minnesota 23
, Washington 21
Billy:
Minnesota 30,
Washington 31
American Football Simulator:
Minnesota 22,
Washington 23
Aaron Rodgers and the Pack are trying to avoid dropping to 2-4.
Green Bay Packers (2-3) @ Houston Texans (5-0)
TheKillerNacho
: It is a mind-boggling thought that the Packers could open the season 2-4, but that is a very real possibility as they go to Houston to play the undefeated Texans. The only bit of good news for the Packers is that Houston will be without their elite linebacker, Brian Cushing. The Texans will still easily smother the Packers' running game and Aaron Rodgers has shown he can't do it alone this season. The Texans will find ways to score against Green Bay's struggling defense.
Green Bay 26,
Houston 29
Billy:
Green Bay 24,
Houston 27
American Football Simulator:
Green Bay 27
, Houston 25
Denver Broncos (2-3) @ San Diego Chargers (3-2)
TheKillerNacho
: The battle of the AFC West on Monday night football, and its a good matchup. However, I have a hard time believing that Peyton Manning's Broncos will be able to keep up with the San Diego Chargers' offense, loaded with Philip Rivers and Ryan Mathews on Monday night. Norv Turner should release a completely healthy Mathews here.
Denver 23,
San Diego 27
Billy:
Denver 34,
San Diego 44
American Football Simulator:
Denver 22,
San Diego 25
Question of the Week
Last week, I asked "
In the first four games of the season, which sophomore starting Quarterback has been most impressive?
" between
Blaine Gabbert (JAC)
,
Christian Ponder (MIN), Cam Newton (CAR)
and
Jake Locker (TEN)
? I realized I forgot about Andy Dalton in this poll, my bad (not that he would've won anyway). In any event, most readers agreed with my selection of
Christian Ponder
, winning the poll with a whopping 85%.
Cam Newton
was the only other selection to get any votes, who had the remaining 15%. With Ponder getting another win on Sunday while Gabbert, Newton, and Dalton being knocked off (Locker's Titans lost but Locker was out with injury), it seems the public is right about this one.
It seems we're always talking about costly injuries at this point of the year, and now is the perfect time to vote on the most devastating injury in this year so far. This week's question is "
Which key NFL injury hurts their team the most?
" between
Darrelle Revis (NYJ), Brian Cushing (HOU), Danny Amendola (STL), Cedric Benson (GB),
Jason Peters (PHI)
, or
Other (please comment)
? Obviously, there are other injuries in the NFL but if I had to choose which five were most devastating to their team, it would be the above. Of all of these, I'm actually going to go with the pre-season injury to Jason Peters, the Eagles offensive tackle. Michael Vick doesn't have pocket presence, and Jason Peters gave him the security he needed to be effective. Peters' injury hurts the Eagles in passing and rushing and is a major reason for their offensive problems. Of course, if you would like to vote someone else, feel free to vote Other then leave a comment on this post with an argument why!
Vote on the right-hand side of my blog!!