Week 15 will be remembered as a week of blowouts... Of the 16 games, only two were close at all (and one looked like it would be a blowout until the 4th quarter). There were still plenty of surprises, however. Let's see how this shakes up the Power Rankings...
Biggest Winner
: Miami Dolphins (+4)
Biggest Loser
: Detroit Lions (-6)
1. Houston Texans
(12-2,
+1
): A dominant win over the rival Colts gives the Texans the check-mark in the AFC South. While the Texans have had two disasters this season, for the most part they have been dominant in every other showing. While their losses to Championship contenders does scare me, I still believe the Texans are the best overall team... even if I do not believe they're the Super Bowl favorite.
2. New England Patriots
(10-4,
-1
): Sunday night was a roller-coaster ride for the Patriots. Going down 31-3 in the 3rd Quarter, Tom Brady was actually able to battle back to tie the game 34-34... quite an amazing feat. The Patriots ultimately lost the game, but I'm not going to push them down too far. I have no doubts that the Patriots will find a way to bounce back.
3. San Francisco 49ers
(10-3-1,
+0
): I may get some criticism for putting them below the Patriots still, the team they beat on Sunday night, but this is just how I see things. Yes, we all know the 49ers can hang around and beat the big boys. I still have them as my #3 team, so I'm obviously very high on them. But the Niners have shown inconsistency this season, losing (and tying for that matter) to teams they really should have beat. Still, the 49ers have shown they can beat anybody and remains a strong championship contender.
4. Atlanta Falcons
(12-2,
+1
): Up until last week, the Falcons failed to have any kind of decisive victory. They made a serious statement against the former Super Bowl champions, shutting them out 34-0 in a game the Giants really needed to win. The Falcons have sent their statement: They are a legitimate threat this off-season. While I still need to see if they can actually perform in the playoffs, the Falcons seem to be getting hot at the right time.
5. Denver Broncos
(11-3,
+2
): There's been a lot of talk about Peyton Manning and how he makes the Broncos a serious contender, but lets not forget the other very important aspect of the Broncos: their defense. The Broncos defense is playing even better than last year, and completely dominated the Ravens in Week 15. Peyton Manning combined with this defense is why the Broncos are a serious contender.
6. Green Bay Packers
(10-4,
+0
): How does Mason Crosby still have a job? A great kicker last year, the Packers kicker has been horrendous this year. They won despite his misses in Week 15, but its clear that the guy lost his mojo and the team no longer trusts him. At one point the Packers opted to go for a 4th and 6 while in field goal range obviously because they didn't trust Crosby. One would think they could bring in a guy sitting in Free Agency like Longwell or Kasay and it would be an improvement...
7. Seattle Seahawks
(9-5,
+1
): Granted, it was only the Bills and the Cardinals, but two straight dominations is impressive for any team. Especially for a team with a rookie Quarterback. I'm not really sure how good this team is, but getting a dominating win on the road is a step int he right direction. The only bad thing for the Seahawks was the Niners winning over the Patriots, hurting their chances for a division title.
8. New York Giants
(8-6,
-4
): It's not like the Giants to get shut out in a must-win situation. The Giants have fallen to 2nd in the NFC East with this loss, trailing the Redskins due to a tie-breaker. The NFC East is now wide-open and the Giants have no one to blame but themselves. This has been the most frustrating team in football this year due to their inconsistency, but I still believe they have what it takes to win the East.
9. Washington Redskins
(8-6,
+3
): When Griffin was ruled out against the Browns, I was pretty sure the Redskins would lose. Who would've thought fellow-rookie Kirk Cousins would've been able to come in and get a huge win? The Redskins are now atop the NFC East. With Griffin back, they have a serious shot at taking the division from the former-Champion Giants.
10. Baltimore Ravens
(9-5,
-1
): So much for a new Offensive coordinator creating a spark... the Ravens' offense was as flat as they come on Sunday against the Broncos. Ray Rice found no running room against the Broncos' top defense. Furthermore, Joe Flacco was inaccurate and turnover-prone. Their only real points of the game came on big plays but they were never truly in it. The good news for the Ravens is that they clinched a playoff birth. They should focus on getting healthy for the playoffs, now.
11. Minnesota Vikings
(8-6,
+2
): The Vikings' big win over the Rams in a game that would virtually eliminate the loser was a big statement. RB Adrian Peterson is a huge candidate for League MVP, in my eyes. Adding another 212 yards against St. Louis, Peterson now has over 1800 yards and 11 touchdowns on the year with two games to go. Barring injury, I think he's a virtual lock for a 2000-yard season. He's also averaging a ridiculous 6.3 yards per carry... coming off a big injury last season. Is this guy even human?
12. Chicago Bears
(8-6,
-2
):
Now dropping to 8-6, the Bears are in a serious danger-zone. The defense has been wearing down due to injuries and age. Meanwhile, the offense can't seem to get much of anything going. The Bears are in trouble. The only good news for the Bears is they get two relatively easy games to finish out the year... one against the Cardinals, then the Lions. The bad news is they could easily lose either of those games and be virtually eliminated.
13. Indianapolis Colts
(9-5,
-2
): While I like the Colts, its clear they are no where near as good as their 9-5 record indicates... a lot of their success this year can be attributed to an easy schedule. Their 29-17 loss to the Texans shows they simply aren't talented enough to compete with the big boys. Despite being 9-5, the Colts have a -49 point differential... they've barely beaten bad teams, and lose big to better teams. I don't think they'll make much of a splash in the playoffs.
14. Cincinnati Bengals
(8-6,
+1
): Despite inconsistency from Andy Dalton and from this Bengals team in general, they have been good enough to blow out teams this year and win games they should win. Going to 8-6 after a 34-13 win over the Eagles, the Bengals are in a good position for an AFC wildcard birth following the Steelers' loss to the Cowboys.
15. Dallas Cowboys
(8-6,
+1
): Tied atop the NFC East with the Giants and Redskins, the Cowboys are still the odd-team out in my opinion. Unlike the Redskins and Giants, the Cowboys' upside is considerably smaller and they are more prone to mistakes. Still, the Cowboys will get the opportunity to play for, and perhaps win, the division title. Although if they don't win the division, they aren't in a good position for a wildcard.
16. Pittsburgh Steelers
(7-7,
-2
): The Steelers blew it with a 27-24 overtime loss to the Cowboys (ironically, the best game of the Week). On Monday, they decided to kiss and make-up with Rashard Mendenhall, who was serving a team-imposed suspension. I guess they realized they may need the former 1st-round Runningback if they want to win out and give themselves a shot at a wildcard birth.
17. New Orleans Saints
(6-8,
+2
): You know the Saints really want to show some promise going into next season. This season was basically lost when Bountygate broke. But a 41-0 win over the division-rival Buccaneers restores some optimism going into next season. Of course, the most important thing for the Saints is trying to lock up HC Sean Payton again... it will be interesting to monitor this situation this off-season.
18. St. Louis Rams
(6-7-1,
+0
): Falling down early to the Vikings, the Rams battled to stay in the game but just couldn't. Still, we saw some good play by Danny Amendola, who appears to not have any setback coming back from his injuries in this game. The Rams are now virtually eliminated with their loss but one has to feel good about the Rams' future with Jeff Fisher. This is the first time in a long while it feels like the Rams are headed in the right direction.
19. Tampa Bay Buccaneers
(6-8,
-2
): When push comes to shove, I guess Greg Schiano's Buccaneers shown that they aren't good enough to compete. Going into the weekend at 6-7, the Bucs were far from eliminated but needed a win against the Saints. Instead, they let themselves lose 41-0, not being able to scratch one of the league's worst defenses. Josh Freeman threw three picks in that game while Doug Martin was largely ineffective.
20. Miami Dolphins
(6-8,
+4
): It was only the Jaguars, but rookie QB Ryan Tannehill had a very good game last Sunday in the 24-3 victory. Tannehill went 22/28 for 220 yards and 2 touchdowns, for a QB rating of 123.2. This was a welcome sign from Dolphins fans, since Tannehill had been seemingly regressing towards the end of the year. The Dolphins need to get Tannehill some weapons during the off-season.
21. New York Jets
(6-8,
+1
): I know its absurd to move a team up one slot after a playoff-eliminating loss on Monday night, but honestly, I didn't know what other team to put at #21 due to pretty much every other team being blown out. Mark Sanchez threw four interceptions in this game. I would say he put the final nails in his coffin but his contract pretty much assures he'll be a Jet next year. Not that I mind as a Dolphins fan. Also, it looks like the Braylon Edwards was fairly pointless.
22. Carolina Panthers
(5-9,
+3
): Cam Newton and the Panthers are putting a strong finish to this season, which should allow HC Ron Rivera to stick around for another season. The Panthers' defense, which has been largely horrible during the last couple seasons, held the Chargers to just 7 points while Cam Newton lit up the sky and ground to put up 31 points against the Chargers.
23. San Diego Chargers
(5-9,
-2
): A huge upset win against the Steelers followed by a huge upset loss against the Panthers... that sums up the Chargers' season pretty nicely, doesn't it? I'll be curious to see how whoever coaches here next season is able to turn this boat around... the Chargers on paper are a pretty talented team, no where near as bad as their 5-9 record indicates.
24. Buffalo Bills
(5-9,
-1
): In my opinion, the Bills should've never agreed to play in Toronto. Of course, to say that was the reason for their 50-17 blowout loss to the Seahawks would be absurd... but it certainly doesn't help matters. Chan Gailey's seat must be getting very hot nearing the end of this season. His reign as Bills coach has been mostly filled with inconsistency but promise... will they give him another year?
25. Tennessee Titans
(5-9,
+2
): Picking off Mark Sanchez four times, the Titans eliminated the Jets with their 14-10 victory on Monday night. It was a rather boring show, as a 14-10 score would indicate, but it started off with a bang. Chris Johnson broke his career-long run with a 94-yard touchdown in the 1st quarter. With nearly 1200 rushing yards and a 4.8 average going into Week 16, Johnson may have salvaged his career with the Titans.
26. Detroit Lions
(4-10,
-6
): It's not good when you're the team snapping another team's 9-game losing streak. The Lions defense had a pretty easy matchup against a completely inept Cardinals offense led by rookie nightmare Ryan Lindley. But bad play by their offense led them to being worn down and giving up 38 points. The Lions DST was the most picked-up player in Fantasy football last week... sucks for everyone who lost a fantasy playoff game beacuse they sucked it up.
27. Cleveland Browns
(5-9,
-1
): With Robert Griffin III sitting out, one would've thought the Browns would've been capable of getting a win against the Redskins at home. Instead, the Browns lost 38-21. Brandon Weeden has not really gotten better as the season progresses. He seems unable to read defenses and looks nervous on every play. The Browns will be looking for another signal-caller in the off-season.
28. Philadelphia Eagles
(4-10,
+0
): Thursday night's game against the Bengals was pretty up-and-down, even for the Eagles. They got off to a 10-0 deficit right off the back due to back-to-back inept mistakes by the Eagles but battled back to a 13-10 lead at halftime. During the 2nd half, however, the Eagles continued to shoot themselves in the foot and wouldn't let go of the trigger, ultimately losing the game 34-13. Goodbye and good riddance, Andy Reid.
29. Oakland Raiders
(4-10,
+1
): The Raiders defense was able to pitch a shut-out in their 15-0 win. Of course, it was against the Chiefs. Led by Brady Quinn... without Dwayne Bowe... and the offense still only mustered up 15 points. The Raiders are still among one of the worst teams in the NFL, make no mistake. They need to be infused with some talent in the off-season.
30. Arizona Cardinals
(5-9,
+1
): I
really
expected the Cardinals to go 4-12, ending the season with a 12-game losing streak. Don't make any mistake, though. The Cardinals' 38-10 victory over the Lions had nothing to do with their offense. The Cardinals defense, as they have all season, came to play in a big way. Matthew Stafford threw three picks against the Cardinals while the Lions weren't able to set up the running game with Mikel LeShoure.
31. Jacksonville Jaguars
(2-12,
-2
): As soon as the Refs had to take back a big touchdown pass from Chad Henne due to a huge mistake from Guy Whimper (who forgot to declare legible), one could feel the Jaguars were doomed in that game. The defense got worn down in the 2nd half, resulting in the Dolphins putting up 24 points. The Jaguars may get Maurice Jones-Drew back for Week 16, which would instantly bolster their offense, but at this point, does it really matter?
32. Kansas City Chiefs
(2-12,
+0
): I don't think I really need to say anything after the Chiefs 15-0 loss to the Raiders. This is the worst team in football, and it really isn't close. At least Scott Pioli probably won't make the same mistake this year with using an interim Head coach. Best to just fire Romeo Crennel in the off-season then start your head coaching search in the off-season. This team desperately needs a change in leadership. If I were the owner, I'd fire Pioli, too.
Predictions for Next Week
TKN's last week accuracy:
10-6 (62.50%)
Billy's last week accuracy:
14-2 (87.50%)
AFS's* last week accuracy:
9-7 (56.25%)
TKN's Overall 2012 accuracy:
143-81 (63.84%)
Billy's Overall 2012 accuracy:
133-91 (59.38%)
AFS's* Overall 2012 accuracy:
140-84 (62.50%)
*American Football Simulator averages of 2,000 simulations.
After a year of sucking it up pretty badly, Billy made a big statement in Week 15 with a 14-2 pick'em record. While he's still behind by a large margin, it would be annoying if he continued to come back against me!
The Falcons established themselves as legit in Week 15.
Atlanta Falcons (12-2) @ Detroit Lions (4-10)
TheKillerNacho
: With Thursday night games gone, we get Saturday night games as a replacement! Unfortunately, this game isn't anything special with the 12-2 Falcons facing the 4-10 Lions. This will only be much of a game if the Falcons take it easy. Still, they can clinch homefield advantage throughout the playoffs with a win... so I wouldn't count on it.
Atlanta 29
, Detroit 17
Billy:
Atlanta 29
, Detroit 23
American Football Simulator:
Atlanta 26
, Detroit 23
Oakland Raiders (4-10) @ Carolina Panthers (5-9)
TheKillerNacho
: The Panthers are playing good football down the stretch, I see Cam Newton putting up big numbers against a poor Raiders secondary. I think the Panthers take this, possibly in a blow-out.
Oakland 13,
Carolina 27
Billy:
Oakland 22,
Carolina 28
American Football Simulator:
Oakland 23,
Carolina 25
Buffalo Bills (5-9) @ Miami Dolphins (6-8)
TheKillerNacho
: Miami should find a way to beat the rival Bills here at home. The Bills offense has been poor lately so the Dolphins defense should be able to contain them. The real question mark is whether or not Ryan Tannehill can keep up his pace with another strong performance.
Buffalo 20,
Miami 23
Billy:
Buffalo 10,
Miami 20
American Football Simulator:
Buffalo 22,
Miami 23
Cincinnati Bengals (8-6) @ Pittsburgh Steelers (7-7)
TheKillerNacho
: This is a big game for the AFC wildcard race. If the Bengals win, they can clinch themselves a wildcard birth. However, if the Steelers win, they'll get the upper-hand. I still believe the Steelers are the better team and don't see them being knocked out at home.
Cincinnati 23,
Pittsburgh 27
Billy:
Cincinnati 13,
Pittsburgh 21
American Football Simulator:
Cincinnati 18,
Pittsburgh 24
New England Patriots (10-4) @ Jacksonville Jaguars (2-12)
TheKillerNacho
: This is not really much of a contest... the Jaguars will look better if Jones-Drew can play but I wouldn't count on that giving them a chance against the Patriots.
New England 30,
Jacksonville 10
Billy:
New England 44
, Jacksonville 20
American Football Simulator:
New England 26,
Jacksonville 21
Andrew Luck and the Colts have had an easy schedule in 2012.
Indianapolis Colts (9-5) @ Kansas City Chiefs (2-12)
TheKillerNacho
: The Colts' easy schedule continues with the Chiefs in Week 16. Andrew Luck and the Colts should have little problem improving their -49 point differential here against the NFL's worst team.
Indianapolis 27
, Kansas City 10
Billy:
Indianapolis 34
, Kansas City 21
American Football Simulator:
Indianapolis 22
, Kansas City 21
New Orleans Saints (6-8) @ Dallas Cowboys (8-6)
TheKillerNacho
: The Saints can continue their role of spoiler in Dallas against the Cowboys, who are in must-win mode in order to win the NFC East. The Cowboys are played well as of late, however, and with Dez Bryant getting over his injured finger, I think Tony Romo may be able to light up the Saints defense. I'm thinking Dallas takes this but having said that, I could easily end up regretting this pick.
New Orleans 27,
Dallas 28
Billy:
New Orleans 27,
Dallas 35
American Football Simulator:
New Orleans 27
, Dallas 26
Washington Redskins (8-6) @ Philadelphia Eagles (4-10)
TheKillerNacho
: With Griffin likely back, there is no doubt in my mind the Redskins will further their NFC East cause with a win over the Eagles here. Not much else to really say.. except this game will feature three rookie Quarterbacks who started this season... Cousins, Griffin, & Foles.
Washington 24
, Philadelphia 17
Billy:
Washington 27
, Philadelphia 18
American Football Simulator:
Washington 27
, Philadelphia 22
St. Louis Rams (6-7-1) @ Tampa Bay Buccaneers (6-8)
TheKillerNacho
: A few weeks ago, this game looked like it could actually be relevant to the playoffs. Now, with both teams losing in Week 15, this game is between two games looking to put something together that is positive going into 2013. I like the Rams over the Bucs who got blown out 41-0 to the Saints.
St. Louis 23
, Tampa Bay 21
Billy:
St. Louis 21,
Tampa Bay 33
American Football Simulator:
St. Louis 23,
Tampa Bay 24
Could Sanchez be in store for another 4-int game?
San Diego Chargers (5-9) @ New York Jets (6-8)
TheKillerNacho
: Its nearly impossible to predict which of these horrible teams will come out on top. The Chargers defense is fairly good at taking the ball away... If Sanchez plays it could mean some more interceptions... I'll go with the Chargers but this could go either way. Or easily be a blowout either way. There's no predicting this one.
San Diego 24
, New York J 23
Billy:
San Diego 34,
New York J 20
American Football Simulator:
San Diego 23,
New York J 24
Tennessee Titans (5-9) @ Green Bay Packers (10-4)
TheKillerNacho
: Unless it comes down to a field goal, the Packers should beat the Titans pretty handily here at home. The Packers are in a tough battle for a first-round bye, so they have plenty to play for.
Tennessee 16,
Green Bay 28
Billy:
Tennessee 23,
Green Bay 42
American Football Simulator:
Tennessee 22,
Green Bay 28
Minnesota Vikings (8-6) @ Houston Texans (12-2)
TheKillerNacho
: This game is the Vikings' real test to be in the playoffs. The 12-2 Texans won't be backing down with homefield-advantage on the line. The Texans also want to prove to themselves they can defeat a playoff-calabir team. Look for the Texans to try to take Adrian Peterson out of the game. Of course, we all know Peterson can beat the stacked box... should be a fairly good game but I'll go with the home team.
Minnesota 24,
Houston 27
Billy:
Minnesota 17,
Houston 24
American Football Simulator:
Minnesota 23,
Houston 27
Cleveland Browns (5-9) @ Denver Broncos (11-3)
TheKillerNacho
: The Broncos need a win here to stay ahead of the Patriots for a first-round bye. They also have an out-side chance at homefield advantage throughout the playoffs if the Texans lose out. Look for the Broncos to get a win over the Browns in Week 16. Brandon Weeden's going to wish he was hiding under an American flag when its all said and done.
Cleveland 14,
Denver 29
Billy:
Cleveland 17,
Denver 30
American Football Simulator:
Cleveland 19,
Denver 23
Chicago Bears (8-6) @ Arizona Cardinals (5-9)
TheKillerNacho
: While the Cardinals just lit up the Lions, the Bears defense is a completely different story. While they have been wearing down in recent games, they should have no problem owning an inept Cardinals offense. The only problem is, the Bears offense doesn't matchup well against the Cardinals defense, either. Expect a defensive game, but one that ultimately ends up with a Bears victory.
Chicago 16
, Arizona 12
Billy
:
Chicago 17
, Arizona 14
American Football Simulator
:
Chicago 26,
Arizona 20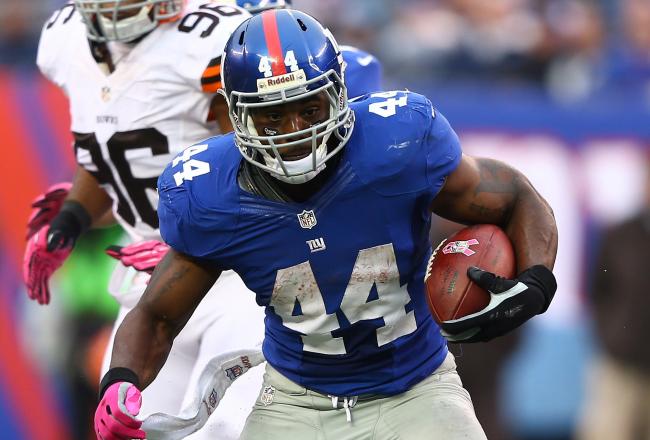 The Giants should get Bradshaw back against BAL.
New York Giants (8-6) @ Baltimore Ravens (9-5)
TheKillerNacho
: This is a much bigger game for the Giants than it is for the Ravens, who have already clinched the AFC North. The Ravens could still get a first-round bye but it is unlikely. I'd expect Coughlin to corral his team together to get this must-win game.
New York G 27
, Baltimore 20
Billy
:
New York G 20,
Baltimore 26
American Football Simulator
:
New York G 23,
Baltimore 25
San Francisco 49ers (10-3-1) @ Seattle Seahawks (9-5)
TheKillerNacho
: Had the 49ers dropped to the Patriots, this would've virtually been the NFC West championship. Now, the Seahawks would need the 49ers to also lose to the Cardinals in Week 17... something that probably won't happen. Still, the 49ers would like to win this game to clinch it right here and now. But the Seahawks rarely drop a game at home. I'll go with the Hawks but don't expect it to be another 40-point game for Russell Wilson.
San Francisco 20,
Seattle 22
Billy
:
San Francisco 16,
Seattle 21
American Football Simulator
:
San Francisco 26,
Seattle 20
Question of the Week
Two weeks ago, I asked "
Of all the teams with more than 9 wins, which one is most likely a pretender?
" between the
Atlanta Falcons (11-2), Houston Texans (11-2), New England Patriots (10-3), Denver Broncos (10-3),
or the
San Francisco 49ers (9-3-1)
? It seems most people went with the
Atlanta Falcons
, who had 58% of the vote. But with their 34-0 shutout of the Giants, it doesn't seem so likely to be the case anymore. The
Houston Texans
and
San Francisco 49ers
were tied for 2nd with 16% each. The
Denver Broncos
had 8%, with no one voting for the Patriots. In reality, I don't think any of these teams are a pretender after Week 16.
If there's one division in the NFL that's still wide open, its the NFC East. This week's question is, "
Which 8-6 team will win the NFC East?
" between the
New York Giants, Washington Redskins
, or
Dallas Cowboys
? As I've said earlier in this post, I'm still expecting the former champs to take it. But the Redskins are a serious threat to the Giants with their big playmaker, Robert Griffin III... What do my readers think?
Vote on the right-hand side of my blog!!