Next Sunday is Christmas, meaning most games will be played on Saturday... an early Holiday treat. Week 16 will be immensely important for all teams in the post-season hunt. Several teams can clinch or be eliminated this week... how exciting! Also, I'd like to wish all my readers a Merry Christmas and Happy Holidays.
Boy, did Week 15 really shake things up or what? Green Bay dropped to a losing team, Indianapolis beat a winning team, and plenty of other teams were upset this week. Our predictors took a major hit this week. I'm happy to say that I was the only one with a positive score, of only 9-7. While the Simulator had it particularly hard this week, going 5-11.
How does Week 15 shake up the Power Rakings? Let's examine.
Biggest Winner
: Philadelphia Eagles, Kansas City Chiefs (+5)
Biggest Loser
: Tennessee Titans (-5)
1. Green Bay Packers
(13-1,
+0
): One loss isn't going to make me drop them from #1, as they have shown all season that they deserve to be here. However, their defense is now a spot of major concern. Kansas City moved the ball down the field effortlessly against Green Bay, sustaining long drives. While Green Bay held them to 19 points, the time of possession and their inability to get turnovers killed them for their first loss of the season. However, this loss may end up helping them in the long run, as it forces them to address these issues. It could be argued that a Green Bay repeat is now more likely than it was before. A win or a San Francisco loss clinches home-field advantage throughout the playoffs.
2. New Orleans Saints
(11-3,
+0
): Drew Brees is a madman when indoors, that much is clear. He made it look easy against Minnesota's soft secondary last Sunday. They are still behind San Francisco due to tiebreakers in the race for a first-round bye, so they will continue to play tough. The largest problem with New Orleans is, "Can they win outdoors?". Luckily for them, at least one home playoff game is virtually assured. They will struggle if forced to go on the road against Green Bay or San Francisco, however.
3. New England Patriots
(11-3,
+2
): Leave it to Tom Brady and the Patriots to snap Tim Tebow's winning streak in Denver. Although the defense is still a spot of concern especially with all of those injuries, at least they are getting it done. Their defensive injuries get even worse with the loss of DE Andre Carter, who has had a very solid year. With a pretty soft remaining two games though, the Patriots seem likely at this point to win homefield advantage throughout the AFC playoffs. This plays into Belichick's hand, as they are extremely difficult to defeat in Gillette.
4. San Francisco 49ers
(11-3,
+2
): On Monday night, the 49ers proved they deserved their record against the Steelers, dominating them defensively in a 20-3 win. Their defense has been absolutely dominant throughout the year. Sure, you can say Ben Roethlisberger was playing hurt, and that might be true, but San Francisco was leading the NFL in takeaways
prior
to this game as well. The one area of concern is the redzone offense. San Francisco has had to settle for a lot of field goals this season. If they want to win in the playoffs, they need to work harder on scoring touchdowns.
5. Pittsburgh Steelers
(10-4,
-1
): Those blackouts at Candlestick Park hurt the Steelers far more than it did the 49ers. Ben Roethlisberger struggled all game, and its hard to argue that the loss of momentum and adrenaline caused by these delays were not a factor (not to mention the pain medication wearing off). The defense played pretty well against the 49ers all things considered, but its very hard to win when your Quarterback throws three interceptions.
6. Baltimore Ravens
(10-4,
-3
): Their inability to win on the road is going to kill this team. They didn't just lose against San Diego, they were
crushed
. For a team fighting not only for homefield advantage throughout the playoffs but their division as well, you have to win these key December games. They are lucky that the Steelers too faced defeat. But I am not confident that this team can make a Super Bowl run unless they can prove they can play on the road as well as they play at home.
7. Atlanta Falcons
(9-5,
+0
): The Falcons avoided a potential trap game in glorious fashion on Thursday night football, dispatching the Jaguars 41-14. The WR corp of this team is really starting to come together with Julio Jones back. Not only is he a dynamic receiver in his own right, his presence also opens up Roddy White and slot man Harry Douglas while also allowing Michael Turner to get more lanes to run the ball. This offense is quite dynamic and is getting hot at the right time. I don't know if anyone wants to face Atlanta in the playoffs.
8. Detroit Lions
(9-5,
+2
): Calvin Johnson, after several weeks of lackluster production, finally had another break out game. Against my fantasy team, of course. In a game where Kevin Smith was healthy but did not help the running game much, the Lions' ability to pass the ball more than made up for it. Stafford was able to overcome a huge 4th quarter deficit to win the ball game in the final moments. This is a good sign from a young Quarterback.
9. Dallas Cowboys
(8-6,
+4
): It seems like every week I'm bouncing back and forth between the Cowboys and the Giants. But when it comes down to it, the Cowboys took care of business while the Giants did not. While the division could still go either way, this is a good sign for the Cowboys. With Murray out, they relied more on Tony Romo, who did not disappoint. While I still doubt Romo's ability in the clutch, at this point in the season, Dallas is playing better than the Giants.
10. Houston Texans
(10-4,
-2
): That showing against Carolina really should move this team down farther than #10, but luckily for the Texans, other teams really stunk it up in Week 15 too. Without Matt Schaub and Andre Johnson, this offense focuses far too much on the running game, allowing teams to gameplay against them better. When Carolina's defense can limit you to 13 points, you know you have issues. And its not like this game meant nothing to Houston, either. Even with the division locked up, they are in a very tight battle for both homefield advantage and a first-round bye in the AFC playoffs. The loss of Defensive coordinator Wade Philips was certainly shown by the Texans allowing 28 points. They need this man back ASAP.
11. Denver Broncos
(8-6,
+0
): As I mentioned last week, I still very much doubt Tim Tebow's ability to compete in a shoot out. He has benefited a ton from a strong running game from Willis McGahee and good defensive play during his win streak, but those things alone could not get it done against the Patriots. While Tebow still played very well in his own right, I just don't see how Denver will compete in the AFC playoffs against teams that could obtain huge leads. Still, I view them as the favorite in the AFC West at this time.
12. New York Giants
(7-7,
-3
): As humiliating as getting swept by the Redskins is, this loss did not really hurt the Giants as badly as one might think. The Giants still control their own destiny due to a Week 17 matchup against the Cowboys. If they win out, they are in. However, that really highlights how bad the NFC East has become. The worst division in football? Maybe, its close between the NFC East and the AFC West...
13. Cincinnati Bengals
(8-6,
+1
): The Bengals proved they were one team that would not give up without a fight. Despite a saddening late-season fall, the Bengals were able to rally and beat the Rams in St. Louis to keep their playoff hopes alive. With a Jets loss, their playoff hopes are now rekindled. Still, there is absolutely no room for error. If the Bengals want to taste the playoffs, they must win out.
14. San Diego Chargers
(7-7,
+2
): Philip Rivers can win in December. Honestly, if only San Diego could consistently remain this hot. If I'm a Chargers fan, I'm hoping this late-season surge won't protect Norv Turner's job, as this man is directly responsible for the hole they are in. However, their playoff hopes are not dead. If Denver is to lose the AFC West, I strongly believe it is the Chargers that will overtake them.
15. New York Jets
(8-6,
-3
): Pitiful. That is the word that best describes the Jets' performance against the Eagles. They were destroyed in all phases of the game. The offense was turnover prone. The defense allowed big drives to Michael Vick and LeSean McCoy. They looked as far from a playoff team as a team can get. They need to win out if they want to be in the playoffs. But they won't win another game if they continue to play like that.
16. Philadelphia Eagles
(6-8,
+5
): Finally, this team is starting to look like the "Dream team" it was dubbed earlier in the season. It has come a bit too late, I'm afraid. Technically, they are not eliminated but this is what needs to happen for the Eagles to win the NFC East: 1) Eagles need to win out. 2) The Giants must lose to the Jets next week, and 3) the Giants must defeat the Cowboys in Week 17. Not exactly the most likely of all scenarios. Then again with how inconsistent both the Giants and Cowboys have been playing of late, it is at least possible... as sad as that is.
17. Seattle Seahawks
(7-7,
+2
): I mentioned last week how much I like this Seattle team. They are still playing with heart, trying to cling to their playoff hopes. With Detroit and Atlanta winning, their hopes are all but dead, but this is a team to keep your eyes on next season. They need to lock up Marshawn Lynch, as this man is running very hard for them. If they can address the Quarterback position, this team will instantly become a contender.
18. Oakland Raiders
(7-7,
-1
): They were so close to keeping their playoff dreams alive, but fell to the Lions in the final moments. This defense is really lacking this season. If Nnamdi remained in Oakland, I think this team would've locked up the AFC West but their defense has been so bad that every team has been able to hang with them the whole game. You can't win games like this. The good news is it appears like the Carson Palmer trade may have worked out for them, he could be a long-term answer. The bad news is they won't be able to really address their key issues with the lack of draft picks they have. Poor Oakland. At least Darren McFadden will be back from injury come 2012...
19. Carolina Panthers
(5-9,
+1
): This young team is coming together, at last. They went into Houston and challenged a playoff team fighting for playoff position and blew them out, 28-13. Finally Cam Newton is starting to get some help from his defense. This is another team to watch out for in 2012. The NFC South is going to be a powerhouse division for years to come, I believe.
20. Tennessee Titans
(7-7,
-5
): The first team giving a win to the Colts quite obviously gets no love from me. This Titans team has given up. Their playoff hopes weren't dead before, especially with the Jets losing against the Eagles, but they are now. This team is now completely demoralized, and for good reason. They have some pieces in place, but this team is about average. I've said all along this team is an 8-8 talent. Looks like I'll probably be right.
21. Chicago Bears
(7-7,
-3
):
Seattle is much improved since the start of the season, but that doesn't make being blown out 38-13 at home at all acceptable, especially when your playoff hopes were on the line. At 7-7 with the Lions and Falcons both at 9 wins each, their playoff hopes are all but dead. They now face a Packers team coming off their first loss of the season, meaning they will be motivated. This team could not survive losing their two best offensive players, and Caleb Hanie has been nothing short of horrible. The Bears are considering benching him for Josh McClown. That's how bad he is. At this point, Chicago probably hopes they lose out so they can get a better draft pick for their run next year.
22. Washington Redskins
(5-9,
+0
): They came out against the Giants and proved that they at the very least had some good pieces in place under Mike Shanahan. A win like this will likely buy him another year, as it should. The good news for the Redskins is that they are bad enough to be in position for a signal-caller in next year's draft. Rex Grossman is a playmaker, but you need consistency at that position to be a contender in the NFL. They were able to survive his two early interceptions this week, but that won't always be the case. The Redskins may be a Quarterback away from truly competing. Actually, that's true of
a lot
of NFL teams.
23. Arizona Cardinals
(7-7,
+0
): The Cardinals are back to .500? How did this happen? Well, an easy schedule plus a few upsets is how. They're doing this without their top Free agent acquisition, Kevin Kolb, too which makes it all the more surprising. At 7-7, one has to be optimistic about this organization's future. Their defense has had a surprisingly good season, and they have found a dynamic return man in Patrick Peterson who could end up being Arizona's Devin Hester if they keep him there. Plus, Beanie Wells has matured into an every-down back. I seem to be saying this about a lot of teams, but this is defiantly a team to keep your eye on in 2012.. if Ken Whisenhunt can keep his job after this year.
24. Miami Dolphins
(5-9,
+0
): The Dolphins came out and played hard for interim coach Todd Bowles, playing at Buffalo in the snow no less to blow them out 30-23. The real story was Reggie Bush's career day, where he ran for over 200 yards. Bush has really proven he can be an elite runner in the NFL with Miami, he has very quietly put together quite a good year. He's averaging 5 yards per carry and has over 1,200 yards from scrimmage. For what the Dolphins paid for him, they most certainly got the better end of the deal. Next year, expect Bush and second year runner Daniel Thomas to make one up one of the league's better dual RB threats. However, this win may have done more harm than good. Their one big weakness is still the Quarterback position and this win makes it likely they will be drafting outside of the Top 5. Will they get their man at Quarterback?
25. Kansas City Chiefs
(6-8,
+5
): Romeo Crennel has really thrown this Kansas City organization a curveball with his huge upset win over the undefeated Packers last Sunday. They fired Todd Haley expecting to get ahead in their race for a new Head coach, but his performance has shown Crennel may be ready for his second chance at being an NFL Head coach. The Chiefs have a lot of pieces in place and will be a ton better once they get all of their IR players back in 2012. Further, Kyle Orton looked poised as he marched against Green Bay effortlessly... he could be a short-term solution at Quarterback and could push Cassel for the starting job in 2012 if retained. It will be a very interesting off-season in Kansas City.
26. Minnesota Vikings
(2-12,
+2
): Once again, do not let their 2-12 record fool you. They are not nearly as bad as this record indicates. They are still playing extremely hard, and Adrian Peterson has returned from injury and should be healthy in Week 16. Their underachieving record may aid them in the long run, though, as now they are virtually guaranteed to obtain a Top 3 pick. Honestly, I do like Christian Ponder despite his struggles. Their biggest need is in the defensive secondary. If they could trade back to a team needing a Quarterback, they could easily have a very good draft. Heck, with Indianapolis beating Tennessee, they still have a shot at the #1 overall pick if they lose out. Will be interesting to see how the off-season goes here in Minnesota, too.
27. Buffalo Bills
(5-9,
-2
): My, my, how the mighty have fallen. I feel so bad for Bills fans, how can they deal with this crap? The positives for the Bills is that C.J. Spiller looks like the real deal. He's played very well with the absence of Fred Jackson. With Jackson being 30 (about the age where RB start to decline), its good to see your high-round Runningback starting to show he can be the featured back. This team was decimated by injuries, exposing a huge lack of depth. Depth should be the area Buffalo targets next offseason. Their starters are solid, but you can't rely on a good "starting" roster in November and December.
28. Tampa Bay Buccaneers
(4-10,
-2
): A long time ago, this team was 4-2 and was being talked about as one of the greatest young teams in football. But those times seem to be long gone. Now, they are 4-10 with an 8 game losing streak. There are talks that Head coach Raheem Morris's job is in jeopardy. This is one of the league's youngest teams. And this inexperience has hurt them this season. If Morris keeps his job, they will likely hire a Defensive coordinator to assist him (Tampa Bay currently doesn't have one). While the defense is the real culprit for their collapse, one has to be concerned about Josh Freeman's regression this season, too.
29. Jacksonville Jaguars
(4-10,
-2
): The defense, which has been so good this season, has finally dropped to mediocrity due to the injuries that kept piling up. The Jaguars may be headed in the right direction. They have a talented defense and one of the better backs in the league in Maurice Jones-Drew. Mel Tucker has proven he has some things to offer as a Head coach. However, Blaine Gabbert leaves a lot to be desired, even for a rookie. Granted, he has arguably the worst receiving corp in football to work with, but even David Garrard fared better in this offense. You won't compete if you have the worst passing offense in football.
30. Cleveland Browns
(4-10,
-1
): Will Pat Shurmur get another season? That is the question in Cleveland right now. As for last week's game, Seneca Wallace was able to come in and make a game of it. They lost 20-17, but they were able to force the Cardinals to overtime. I'm actually thinking Seneca Wallace is a better Quarterback than Colt McCoy right now. While Peyton Hillis has returned, he's still not playing up to par to his level last year. This team lacks offensive production.
31. St. Louis Rams
(2-12,
+0
): The Rams are painful to watch. Maybe even more so than the Colts. This team has been the worst team in football by far the last 5 years. There's also a lot of rumors about the Rams possibly being the team that moves to Los Angeles, a rumor that has crippled the little fan support they have. Sam Bradford seems to have regressed but with the amount of injuries the Rams have had with not a particularly talented roster prior to those injuries, they are lucky to have two wins. I honestly can't see them getting another. I doubt Steve Spagnuolo will survive the off-season as it has been reported by the Rams owner that the Rams will "shake it up" in the off-season.
32. Indianapolis Colts
(1-13,
+0
): I really honestly expected that this team would be the second team in NFL history to go 0-16. Honestly, I still think they are worse than that 0-16 Lions team but at least they proved that they had heart, at least on the defensive side of the ball by defeating the Titans, a team that should've been fighting hard for their playoff lives. With this victory, it was announced by Bill Polian that Peyton Manning would
not
see the field this season (presumably because he would've only played to try to avoid the Colts from going 0-16). They should be careful, though. The Rams or the Vikings may steal the first overall pick if they were to somehow win another game (a distinct possibility considering they still have the Jaguars on the schedule).
Predictions for Next Week
TKN's accuracy, Last week:
9-7 (56.25%)
Billy's accuracy, Last week:
8-8 (50.00%)
AFS's* accuracy, Last week:
5-11 (31.25%)
TKN's Overall 2011 accuracy:
146-78 (65.18%)
Billy's Overall 2011 accuracy:
150-74 (66.96%)
AFS's* Overall 2011 accuracy:
144-80 (64.29%)
*American Football Simulator averages of 2,000 simulations.
The Simulator has nose-dived its chances this year, really. 5-11 is by far the worst record weekly for the season, and it was pretty close to Billy prior to this week. With one win more than Billy, I was able to make up some ground, however, but Billy still has the edge with a four-game lead against me. With two weeks and the playoffs to go (which will be worth double points per game), it is still anyone's championship to win, though.
Arian Foster ought to keep alive HOU's chances at a first-round bye.
Houston (10-4) @ Indianapolis (1-13)
TheKillerNacho:
The Colts morale is high after their first win. The Texans morale is low after a heartbreaking home loss. Does this make Indianapolis the favorites...? No, I don't think so. Houston is still the clear favorites even on a short week. The Colts struggle against the run, which the Texans can still do with Arian Foster. Houston needs this win to keep their hopes at a first-round bye alive. Look for the Texans to find a way to win here.
Houston 21, Indianapolis 17
Billy:
Houston 34, Indianapolis 28
American Football Simulator:
Houston 27, Indianapolis 23
Miami (5-9) @ New England (11-3)
TheKillerNacho:
The schedule makers gave Miami no favors in December. Right after a snowy affair against Buffalo, Miami goes on the road again to the North-East to play one of the hottest teams in football. Look for New England to get another win here, furthering its case for homefield advantage throughout the playoffs.
Miami 24, New England 30
Billy:
Miami 21, New England 31
American Football Simulator:
Miami 20, New England 26
Denver (8-6) @ Buffalo (5-9)
TheKillerNacho:
Tim Tebow won't have the same kind of trouble against Buffalo as he did against New England. Unlike New England, Buffalo also has a beaten-up offense to go along with their defensive injuries. Tebow will probably find a way to be down in the 4th quarter in this game, but I can't see him losing it. Willis McGahee may be in for a big game against a team that allowed over 200 yards on the ground to Reggie Bush.
Denver 23, Buffalo 22
Billy:
Denver 27, Buffalo 23
American Football Simulator:
Denver 23, Buffalo 22
Jacksonville (4-10) @ Tennessee (7-7)
TheKillerNacho:
Tennessee is not technically eliminated, so this is still a big game for them. They just allowed the worst team in football to best them but at home against another one of the league's worst teams, I think they can find victory.
Jacksonville 16, Tennessee 20
Billy:
Jacksonville 13, Tennessee 16
American Football Simulator:
Jacksonville 22, Tennessee 24
Ray Rice wants to repeat his 200 yard performance against CLE.
Cleveland (4-10) @ Baltimore (10-4)
TheKillerNacho:
At home against a team that struggles stopping the run, it would be quite hard to see the Ravens not bouncing back here. Ray Rice 204 yards rushing against the Browns in Cleveland, he could be in for a repeat performance on Christmas Eve.
Cleveland 13, Baltimore 26
Billy:
Cleveland 12, Baltimore 33
American Football Simulator:
Cleveland 18, Baltimore 27
Oakland (7-7) @ Kansas City (6-8)
TheKillerNacho:
I think the Chiefs will continue to come out playing hard for Romeo Crennel here against the Raiders. Kyle Orton was able to move the ball effortlessly and safely against the Green Bay defense, I expect nothing less against the Raiders. Oakland will be once again without Darren McFadden, and Kansas City's defense has been much improved with their pass rush in recent weeks. I think the Chiefs will come out and officially put an end to the Raiders' playoff hopes.
Oakland 20, Kansas City 24
Billy:
Oakland 16, Kansas City 28
American Football Simulator:
Oakland 21, Kansas City 20
Minnesota (2-12) @ Washington (5-9)
TheKillerNacho:
We should get to see "good Rex" here at home against arguably the league's worst secondary. Minnesota struggles on the road away from their dome, but Adrian Peterson should be healthy this week which should allow for a solid running game. The Redskins defense took the ball away from Eli a few times last Sunday, and should force some turnovers from either Christian Ponder or Joe Webb in this one. While I could easily see the Vikings upseting the Redskins, I think its fair to say the Redskins are the clear favorites.
Minnesota 18, Washington 23
Billy:
Minnesota 7, Washington 17
American Football Simulator:
Minnesota 19, Washington 21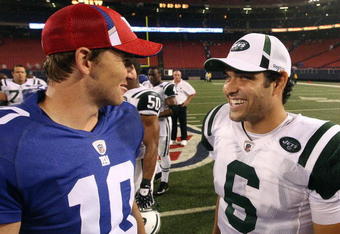 In a battle between New York teams, the question is who wants it more?
New York G (7-7) @ New York J (8-6)
TheKillerNacho:
Wow, what a game. This is a dual home game, and both teams playoff hopes are on the line. Both New York teams must win out to make the playoffs, but only one can do so. I actually like the Giants here as the Jets won't have much of a "homefield advantage" and I think the Giants can abuse the Jets' weakness against the run. The Giants defense will come out angry. They had two picks of Grossman last week, and I think they will get more against the Jets this week.
New York G 23, New York J 20
Billy:
New York G 3, New York J 35
American Football Simulator:
New York G 22, New York J 23
Tampa Bay (4-10) @ Carolina (5-9)
TheKillerNacho:
At this point, I doubt Tampa Bay will be able to snap its 8-game losing streak. Carolina is hot right now with their defense finally coming together against Houston last week. Tampa Bay's defense on the other hand has been absolutely horrid. Owners who have Cam Newton in their fantasy championship game this week couldn't have asked for a better matchup.
Tampa Bay 21, Carolina 28
Billy:
Tampa Bay 17, Carolina 31
American Football Simulator:
Tampa Bay 24, Carolina 26
Arizona (7-7) @ Cincinnati (8-6)
TheKillerNacho:
Both of these teams have an over-acheiving record, but the Bengals playing at home should win this one and keep their playoff hopes strong going into Week 17. The Cardinals are a dangerous team with a scrappy defense and will play the Bengals close. The Bengals better be ready, because their season could be made or destroyed in this one.
Arizona 23, Cincinnati 24
Billy:
Arizona 21, Cincinnati 24
American Football Simulator:
Arizona 20, Cincinnati 24
St. Louis (2-12) @ Pittsburgh (10-4)
TheKillerNacho:
Much like their rivals, the Ravens, the Steelers couldn't have asked for an easier rebound game. The Rams may be the worst team in football right now (Yes, even worse than the Colts). I think there's a good shot that they may not get a single offensive point against one of the most dominant defenses in football. Roethlisberger should rebound against the Rams secondary.
UPDATE: Roethlisberger won't be rebounding because Roethlisberger will probably be out, according to Jason LaConfora. Of course, that doesn't mean that the Steelers won't win anyway. As we saw vs the 49ers, Roethlisberger may be more of a liability at the moment, and its not like the Rams will be able to score on the Steelers anyway.
St. Louis 3, Pittsburgh 20
Billy:
St. Louis 10, Pittsburgh 19
American Football Simulator:
St. Louis 17, Pittsburgh 26
San Diego (7-7) @ Detroit (8-6)
TheKillerNacho:
I do not want to be any team playing the Chargers right now. They are red-hot. The Lions nearly dropped to the Raiders last week, but Matthew Stafford took a major step forward in his development with a 4th-quarter comeback. I'm going San Diego here because they are playing better football now and need to win out. Then again, winning out is something Detroit needs to do to guarantee a playoff birth, too.
San Diego 28, Detroit 27
Billy:
San Diego 30, Detroit 34
American Football Simulator:
San Diego 25, Detroit 24
Philadelphia (6-8) @ Dallas (8-6)
TheKillerNacho:
Much like the Chargers, the Eagles are red-hot right now, finally playing up to their pre-season expectations. The Cowboys are hit and miss every week, and have not performed well at home. The stakes in this game are far higher for Philadelphia however than for Dallas. Dallas can lose this game and still win the division with a win against New York next week, no matter if the Giants win or lose this week (although if they win and the Giants lose, Dallas clinches the division). Meanwhile, this is a must-win game for the Eagles who need a Giants loss this week then a Giants win next week. Then again, they could be eliminated from playoff contention by kickoff with a Giants win over the Jets, making this game tough to predict. Both teams will have more on the line if the Giants lose to the Jets, which is not what I expect. I think the Dallas will rest starters in a meaningless game though so I'll go with Philly.
Philadelphia 28, Dallas 27
Billy:
Philadelphia 38, Dallas 35
American Football Simulator:
Philadelphia 28, Dallas 26
San Francisco (11-3) @ Seattle (7-7)
TheKillerNacho:
This game will be harder than the 49ers may expect. Seattle has played very well towards the end of the season and has one of the greatest homefield advantage in the NFL. The 49ers really need this win as they can't afford to lose if they want a first-round bye since New Orleans is unlikely to lose again this year. I'm going with the better team, but I would not be surprised with a Seattle upset.
San Francisco 22, Seattle 21
Billy:
San Francisco 20, Seattle 18
American Football Simulator:
San Francisco 25, Seattle 20
GB's defense looks to rebound against a depleted CHI offense.
Chicago (7-7) @ Green Bay (13-1)
TheKillerNacho:
I fully expect Green Bay to come out hungry in this Christmas Day game. After their huge loss to Kansas City, the defense will come out angry looking to prove that last week was a fluke. And they get an easy matchup against whoever Quarterbacks for Chicago. Hanie has been awful, but their other options aren't much more promising. Meanwhile, Chicago's defensive weakness is their secondary, so I expect to see some big plays from Jordy Nelson and James Jones looking to prove that they can still be effective without Greg Jennings. Expect the Packers to dominate the Bears to lock up homefield advantage throughout the NFC playoffs. I think the Bears would've had a better shot had the Packers not lost last week.
Chicago 9, Green Bay 31
Billy:
Chicago 13, Green Bay 27
American Football Simulator:
Chicago 17, Green Bay 27
Atlanta (9-5) @ New Orleans (11-3)
TheKillerNacho:
Another excellent Monday night matchup. Both teams want to win here. The Saints need to win out and hope for a 49ers loss to secure a first round bye, while Atlanta is a win away from securing an NFC wildcard spot. Drew Brees is spectacular indoors and especially so at home, however, so I suspect they will get a win here. Atlanta is hot right now, though, so they better not underestimate the 2010 South champs.
Atlanta 27, New Orleans 30
Billy:
Atlanta 32, New Orleans 45
American Football Simulator:
Atlanta 26, New Orleans 28
Question of the Week
Last week, I asked my readers
What do you believe the Colts will do with the 1st overall pick and Peyton Manning
? between the
Draft Luck & trade Peyton
,
Draft Luck & keep Peyton
,
Draft another player (Not Luck)
, or
Trade the first overall pick
. The Colts ended up getting their first win last week, but it was no thanks to their Quarterback, as they still had less than 100 yards passing. While the poll was extremely close,
Drafting Luck & Trading Peyton
won with 37%.
Draft Luck and Keeping Peyton
and
Drafting another player
was tied for second with 25%. Only 12% of the voters thought the 1st overall pick would be traded. When combing the first two answers, one can say over 50% of voters thought that the Colts will end up drafting Luck, however. Then again, with a win against Tennessee, there may be doubts they'll get the first overall pick at all.
As I mentioned earlier, gone are the days in which the NFC East is the league's best division. Of course, many more divisions have taken over with strong claims for that right. Today's question is
Which division in the NFL will be the toughest in 2012?
between the
NFC South
,
NFC North
,
AFC North,
AFC East
, or
Other (please comment)
? While all four of these divisions have several quality and/or up-and-coming teams, I think the NFC South will be the best division over the course of the next several years. The Saints and Falcons are already to the point that I believe they can remain competitive year to year, and the Panthers are finally looking to turn the corner with one of the best rookies I've seen in recent years, Cam Newton. The Bucs may have stunk it up this year, but last year they were promising with 10-6 and with the youth and talent they have there, they will get more competitive as the team matures. What do you, the readers, think?
Vote on the right-hand side of my blog!