Back from my Walt Disney World vacation, I'm back to doing these normal weekly power rankings & predictions. I only posted predictions last week, so lets see how the last two weeks shakes up these power rankings.
Biggest Winner
: Tennessee Titans (+6)
Biggest Loser
: Miami Dolphins (-10)
1. Houston Texans
(9-1,
+1
): Despite their near-embarrassment against Jacksonville in Week 11, Houston moves to #1 after two wins in Week 11 and 12. With an exception of two games this season, the Houston Texans have looked completely dominant this season. Obviously they'll need to address some of their defensive issues that allowed the lowly Jaguars to put up 37 points, however.
2. San Francisco 49ers
(7-2-1,
+3
): After a hilarious tie in Week 10, the 49ers showed in Week 11 that they can be a serious force. Colin Kaepernick absolutely dominated the Bears defense in his first career start, throwing two touchdown passes. On the other side of the ball, the 49ers dominated the line of scrimmage, limiting Jason Campbell to just over 100 yards passing.
3. Green Bay Packers
(7-3,
+3
): The Pack is back, as they now lead the NFC North again after a poor start to the season. Aaron Rodgers had a good game against Detroit, playing just well enough to win. Meanwhile, the Packers defense is starting to come together. They stopped Detroit easily and even got a defensive touchdown in Week 11.
4. Atlanta Falcons
(9-1,
-3
): In just two weeks, the Falcons fall from #1 to #4, for me. The first reason was the fact they dropped their first game of the year in Week 10 to the Saints. Then in Week 11, the Falcons were lucky to win with Matt Ryan throwing FIVE interceptions. If it weren't for Arizona's offense being equally inept, this would be an 8-2 team right now. At least the Falcons defense is playing very well this year, still.
5. New England Patriots
(7-3,
+2
): After two straight wins, the Patriots have once again secured their spot as #1 team in the AFC East. The Patriots defense is the major difference-maker this year. They flat out confused Colts rookie Quarterback Andrew Luck in Week 11, picking him off three times in their 59-24 blowout. Meanwhile, the Patriots offense looks to be one of the league's best... again.
6. New York Giants
(6-4,
-2
): The one million dollar question is what is wrong with the New York Giants? They have looked awful in recent weeks. Their last game was a blowout loss to Cincinnati in Week 10. The good news for Giants fans is that Tom Coughlin usually has this team playing better at this time of year - I think he'll be able to fix the issues the Giants have been facing. But if he doesn't, the NFC East is wide open for either the Redskins or Cowboys to snipe the division away from them.
7. Chicago Bears
(7-3,
-4
):
Bears fans are fearing that what happened last year when Jay Cutler went out is happening again... While its hard to blame Jason Campbell for his poor performance due to lack of time due to a woeful offensive line performance, there's no doubt that they would've stood a better chance at scoring points with Cutler. The Bears hope Cutler is ready to go - and soon - or this season may mirror their 2011 campaign.
8. Denver Broncos
(7-3,
+1
): After finishing the season sweep of the Chargers in Week 11, the Broncos are sitting pretty at the top of a poor AFC West division. Their playoff spot is more secure than virtually any other team in the NFL. Of course, its not just because they play in a poor division... The Broncos are talented enough to make a big championship push with Peyton Manning at the helm.
9. Baltimore Ravens
(8-2,
+2
): The Ravens are doing a great job at overcoming their injuries and finding ways to win. I give a lot of credit to John Harbaugh here. Their campaign this year reminds me of the Giants' campaign last year when they were plagued with injuries. It would be foolish to count the Ravens out here... their defense can still play at an elite level and they have a strong running game with Ray Rice.
10. Seattle Seahawks
(6-4,
+0
): Seattle is a dangerous football team, a team that appears to be capable of playing and upsetting anybody. They beat the Patriots and Packers this year (although admittedly they had some help against the Packers from the replacement refs). One of the biggest things I want to see with this team is if they are capable of playing on the road as well as they do at home... they have an interesting test this week, traveling to Miami for a 1 PM game.
11. Tampa Bay Buccaneers
(6-4,
+1
): The Bucs win over the Panthers in Week 11 was entertaining and close. The Bucs overcame an 8-point deficit late in the fourth quarter, aided by WR Vincent Jackson scoring a touchdown, followed by a two-point conversion. The Bucs would eventually go on to win the game in overtime. The Bucs are a team that could make a strong run for an NFC wildcard.
12. Pittsburgh Steelers
(6-4,
-4
): The Steelers are in trouble. First, Big Ben goes out in Week 10. Then, in Week 11, his backup, Byron Leftwich, was also injured and will be out for several weeks. The only healthy Quarterback on the Steelers roster right now is the old Charlie Batch. Batch has been a fine backup in the NFL for several years, but has shown signs of serious decline since then. We'll see if the Steelers can overcome their poor offensive situation against the Browns in Week 12.
13. New Orleans Saints
(5-5,
+2
): There is arguably no hotter team in the NFL right now than the New Orleans Saints. With Joe Vitt back as the head coach, the Saints have took a complete 180 from their 0-4 start, to be 5-5 going into Week 12. In week 10, they handed the Falcons their first loss of the year, then won big at Oakland in Week 11. The question is, has this surge come too late? The Saints play a very good 49ers team in Week 12.
14. Indianapolis Colts
(6-4,
+4
): Colts fans have to be pleased with how quickly Andrew Luck is developing for them. Of course, there will always be roadblocks. Even after a huge loss to the Patriots, the Colts are 6-4, which is good enough in the AFC to be in serious competition for an AFC wildcard birth. Playoffstatus.com, a website I gave a shout-out to last year, gives the Colts a 57% chance to make the playoffs. Quite impressive considering they're coming off a 2-14 season.
15. Minnesota Vikings
(6-4,
+2
): Despite being 6-4, the Vikings are only third in the NFC North. To make matters worse, they're involved in an extremely close wildcard race. Assuming the Bears or Packers take the 5th seed, the Vikings are one of five teams (the Cowboys, Seahawks, Buccaneers, Vikings, & Saints) trying to compete for the 6th seed. At this point, I don't think the Vikings are good enough to push one of those teams out.
16. San Diego Chargers
(4-6,
-3
): The Chargers completely ruined their historic strong start. Being 3.5 games behind Denver in the AFC West, the Chargers dreams of winning the division are all but gone. Their only glimmer of fortune is the fact that the AFC is extremely week this season. If they can find a spark, they may find themselves competing for a wildcard spot. But it has to start against the Ravens in Week 12.
17. Cincinnati Bengals
(5-5,
+4
): The Bengals are back on the right track after two straight blowouts, first against the former champion Giants, and then against the Chiefs. As I've mentioned, the AFC wildcard race is wide open due to the poor state of the conference. If they can continue to win, I could easily see them taking the Steelers' or Colts' wildcard spot. They get another easy opponent in Week 12 against the Raiders.
18. Dallas Cowboys
(5-5,
+1
): It took overtime against the Browns, but two straight wins has the Cowboys right back in the thick of things in the NFC East. They're one game behind the Giants. Their best chance to get a playoff birth is actually to win the division due to the NFC wildcard race being packed with good teams trying to make it in. If the Giants keep faltering and if the Cowboys can keep their win streak going, they could look to snipe the division away from the Giants.
19. Washington Redskins
(4-6,
+4
): It appears that Shanahan's comments lit a fire under this team, as they absolutely dominated Philadelphia in Week 11, 31-6. Robert Griffin III had a perfect passer rating against what was considered to be a stingy Philadelphia defense. Meanwhile, the Redskins abused backup rookie Quarterback Nick Foles, not allowing him to score any touchdowns. The Redskins are two games behind the Giants in the NFC East but have an opportunity to increase their chances with a game against the Cowboys on Thanksgiving.
20. Detroit Lions
(4-6,
-6
): With two straight losses, Detroit has put themselves in a huge hole that they'll likely not be able to climb out of. Their luck doesn't get any better in Week 12, when they host the Texans on Thanksgiving. Even if they win, a crowded division and conference likely means the Lions are all but done.
21. New York Jets
(4-6,
+1
): A win against the Rams keeps the Jets in the AFC wildcard race. The Jets got back to the ground and pound against the Rams, successfully running the football and controlling the clock, which in turn helped their defense. While the Jets still struggle to do the simplest things at times, they have the potential to play very well and defeat good teams. They get a tough Thanksgiving matchup against New England, however.
22. Buffalo Bills
(4-6,
+3
): The Bills absolutely dominated Miami in all phases of the game in their Thursday night victory. As far as the playoffs go, the Bills are in the same boat as the Jets, having a shot at competing for a wildcard birth. With Mario Williams finally emerging as a playmaker and Shawn Merriman looking like he's finally healthy, the Bills defense has looked much better. They contained Reggie Bush to just 20 yards on 10 carries in Week 11.
23. St. Louis Rams
(3-6-1,
+1
): The Rams baffled many fans and experts forcing a tie against the rival 49ers in Week 10. Of course, they weren't able to build on that "success" against the Jets in Week 11, losing the game 27-13, while Danny Amendola got injured again. The good news is that Amendola's injury didn't look serious this time, as he returned to the game at halftime.
24. Tennessee Titans
(4-6,
+6
): I have no idea where that surge of competence came from during their 37-3 slaughter of the Miami Dolphins in Week 10. Jake Locker looked great coming back from injury and provided a huge spark for the Titans passing attack, allowing Chris Johnson to go off for some big gains. Meanwhile, a Titans defense that was on pace to allow the most points in NFL history during a season completely shut down the Dolphins.
25. Arizona Cardinals
(4-6,
+2
): At least we know the Cardinals defense still wants to win games. They picked off Matt Ryan five times, but due to their historically bad offensive line still lost the game 23-19. Talk about complete offensive ineptitude. The Cardinals now have a 6-game losing streak, after starting the season 4-0. This could be remembered as one of the largest collapses in NFL history.
26. Miami Dolphins
(4-6,
-10
): How did the Dolphins decline so fast, so quickly? After what was considered a strong start to the year, the Dolphins lost 37-3 against a team that was on pace to giving up the most points in a season and then lost against the Bills 19-14, while not being able to run the ball against a team on pace to give up the most yards per carry during a season. The Dolphins defense is still playing decent, but the Dolphins offense makes scoring points look so hard.
27. Philadelphia Eagles
(3-7,
-7
): Remember when the Eagles owner said "8-8 isn't good enough" for Andy Reid? Well, the Eagles are just one loss away from that ultimatum... and it appears that the players have given up on Andy Reid, evidenced by a 31-6 pounding against the Redskins. The only reason Reid hasn't been fired yet is due to the respect the organization has for him... but he'll be fired at some point before next year, for sure. At least the Eagles get to face an equally disappointing team in the Panthers on Monday night.
28. Carolina Panthers
(2-8,
-2
): The Panthers were so close to upsetting the Buccaneers in Week 11 but ultimately laid down when the game was on the line, allowing the Buccaneers to score a touchdown, a two point conversion, and an overtime touchdown to win the game 27-21. With the exceptions high for Carolina going into 2012, Ron Rivera's seat is getting very hot. He may help cool it down some if he can beat the Eagles on Monday night, however.
29. Cleveland Browns
(2-8,
+0
): The Browns have been playing opponents hard this year, but can never seem to finish out games. That's exactly what happened on Sunday. They had a late game surge, tying the game 20-20 but eventually lost in overtime 23-20 to the Cowboys. Brandon Weeden has looked better as the season progresses but that won't stop the new GM from cleaning house for 2013.
30. Oakland Raiders
(3-7,
-2
): The Raiders are bad, plain and simple. Offensively they are decent but a poor offensive line keeps their best playmaker, Darren McFadden, from making a big impact. Defensively, they are a cupcake team, showcased by giving up 38 points to the Saints in Week 11. Things won't get easier when they face another team with a lot of momentum, the Bengals.
31. Jacksonville Jaguars
(1-9,
+0
): Chad Henne surprisingly created a spark for the Jacksonville offense, as he threw 4 touchdown passes against what was previously thought of to be the best defense in football, leading the Jaguars to 37 total points. Justin Blackmon was all of a sudden a huge playmaker, leading the Jaguars to name Henne the starter for Week 12. This move pretty much means the Jaguars will be cutting their losses with the Gabbert experiment.
32. Kansas City Chiefs
(1-9,
+0
): Words cannot describe how bad this team is playing right now. They are beyond awful in every phase of the game. It doesn't matter who starts at Quarterback because the Chiefs will be targeting Geno Smith or Matt Barkley early in next year's draft. For the Chiefs, they just hope that they don't accidentally win a game and let the Jaguars take the coveted #1 selection.
Predictions for Next Week
TKN's last week accuracy:
12-2 (85.71%)
Billy's last week accuracy:
10-4 (71.43%)
AFS's* last week accuracy:
8-6 (57.14%)
TKN's Overall 2012 accuracy:
101-59 (63.13%)
Billy's Overall 2012 accuracy:
92-68 (57.50%)
AFS's* Overall 2012 accuracy:
105-55 (65.63%)
*American Football Simulator averages of 2,000 simulations.
It was nice to finally make some big ground against the AFS in Week 11, as I went for 12-2 while the AFS went only 8-6. This puts me only four games behind the AFS going into Week 12.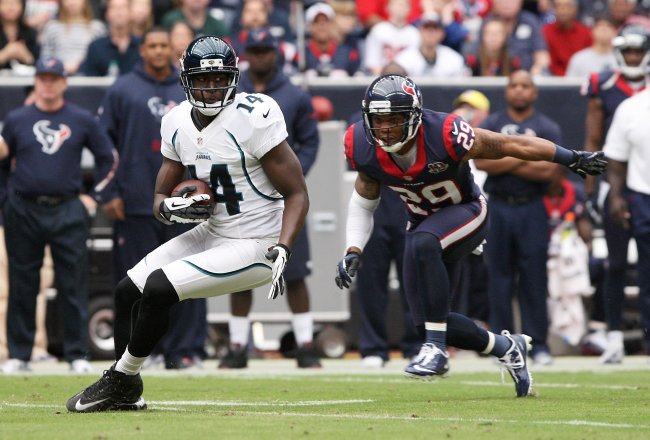 The Texans need to address their defensive concerns from W11.
Houston Texans (9-1) @ Detroit Lions (4-6)
TheKillerNacho
: The Texans should show that their defensive performance last week was a fluke on Thanksgiving. The Lions aren't playing well right now, and the Texans will be looking for some turnovers from Matthew Stafford.
Houston 30
, Detroit 21
Billy:
Houston 27
, Detroit 23
American Football Simulator:
Houston 27
, Detroit 24
Washington Redskins (4-6) @ Dallas Cowboys (5-5)
TheKillerNacho
: This should be a close matchup, probably the best of the three Thanksgiving games. Its a tough game to pick but I think the Redskins will ride their momentum from their beatdown of the Eagles to a Thankgiving victory here.
Washington 24
, Dallas 23
Billy:
Washington 33
, Dallas 28
American Football Simulator:
Washington 24,
Dallas 25
New England Patriots (7-3) @ New York Jets (4-6)
TheKillerNacho
: The Patriots have to be the clear favorite here but the Jets will come in playing hard for a Thanksgiving upset. Unfortunately for them, the Patriots are better in all three phases.
New England 28
, New York J 20
Billy:
New England 44,
New York J 30
American Football Simulator:
New England 24
, New York J 21
Tennessee Titans (4-6) @ Jacksonville Jaguars (1-9)
TheKillerNacho
: We saw both of these teams had an uncharacteristic surge the last time we saw them. Of the two, however, I'd say the Titans have the greater chance at being legitimate. I'll take Jake Locker over Chad Henne.
Tennessee 23
, Jacksonville 20
Billy:
Tennessee 24
, Jacksonville 19
American Football Simulator:
Tennessee 24
, Jacksonville 23
Buffalo Bills (4-6) @ Indianapolis Colts (6-4)
TheKillerNacho
: The Colts play well at home and I think Andrew Luck will have a rebound game against the Bills here. For the Bills to win, they'll need to show up with the defensive competence they had against Miami in Week 11.
Buffalo 23,
Indianapolis 27
Billy:
Buffalo 20
, Indianapolis 29
American Football Simulator:
Buffalo 25
, Indianapolis 22
The Steelers are down to their 3rd-string QB, Charlie Batch.
Pittsburgh Steelers (6-4) @ Cleveland Browns (2-8)
TheKillerNacho
: The Steelers are without their two top Quarterbacks, but should be able to squeak out a win against the rival Browns. Still, its a potential trap game for the Steelers as the Browns have played their opponents hard this season.
Pittsburgh 20
, Cleveland 19
Billy:
Pittsburgh 22
, Cleveland 12
American Football Simulator:
Pittsburgh 23,
Cleveland 18
Oakland Raiders (3-7) @ Cincinnati Bengals (5-5)
TheKillerNacho
: The Bengals are the clear favorites here. Their struggles to run the ball this season shouldn't be a factor since the Raiders have struggled stopping the run. In addition, A.J. Greene is having a phenomenal season and should also step up big against a poor Raiders defense. The playoffs are on the line for the Bengals, while the Raiders have nothing really to play for.
Oakland 17,
Cincinnati 23
Billy:
Oakland 14,
Cincinnati 23
American Football Simulator:
Oakland 22
, Cincinnati 21
Denver Broncos (7-3) @ Kansas City Chiefs (1-9)
TheKillerNacho
: Is there any doubt that Peyton Manning will handily defeat the worst team in football?
Denver 30
, Kansas City 6
Billy:
Denver 49
, Kansas City 13
American Football Simulator:
Denver 23
, Kansas City 20
Seattle Seahawks (6-4) @ Miami Dolphins (4-6)
TheKillerNacho
: This is a major test game for both teams. For the Dolphins, can they respond after two highly disappointing losses? For the Seahawks, they want to prove they can be just as good on the road as they are at home. While its hard to pick my Dolphins right now, this is the perfect recipe for an upset... I'll go with the Fins.
Seattle 23,
Miami 24
Billy:
Seattle 17
, Miami 7
American Football Simulator:
Seattle 22
, Miami 21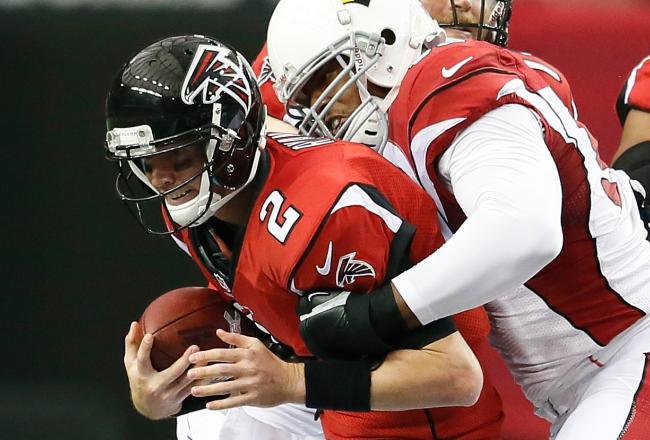 Matt Ryan can't afford to throw five picks against TB.
Atlanta Falcons (9-1) @ Tampa Bay Buccaneers (6-4)
TheKillerNacho
: I'm going to take the upset here. The Falcons offense looked awful against the Cardinals, and the Tampa Bay secondary has proven that they are fairly good. If they can force a couple turnovers from Matt Ryan, the Tampa Bay offense should be able to score enough points to upset the Falcons.
Atlanta 24,
Tampa Bay 26
Billy:
Atlanta 27,
Tampa Bay 35
American Football Simulator:
Atlanta 27
, Tampa Bay 24
Minnesota Vikings (6-4) @ Chicago Bears (7-3)
TheKillerNacho
: If Jay Cutler can't go, Jason Campbell should improve now that he's not facing the 49ers at San Francisco but this will still be a tough game. I think the Bears defense will step up and stop Christian Ponder though, giving the Bears a slight win. If Cutler plays, I think it only leans more for the Bears.
Minnesota 22,
Chicago 23
Billy:
Minnesota 21,
Chicago 31
American Football Simulator:
Minnesota 21,
Chicago 24
Baltimore Ravens (8-2) @ San Diego Chargers (4-6)
TheKillerNacho
: Baltimore has been finding ways to win, and it should continue against a struggling San Diego Chargers team. Although with their backs against the wall, the Chargers may strike and are capable of upsetting.
Baltimore 26
, San Diego 23
Billy:
Baltimore 28
, San Diego 24
American Football Simulator:
Baltimore 27
, San Diego 26
St. Louis Rams (3-6-1) @ Arizona Cardinals (4-6)
TheKillerNacho
: The Rams are playing better football at the moment, but the Cardinals defense should give some serious problems for Sam Bradford and the Rams, especially if Danny Amendola isn't good to go. For that reason I think the Cardinals will snap their 6-game losing streak here at home.
St. Louis 20,
Arizona 22
Billy:
St. Louis 21,
Arizona 25
American Football Simulator:
St. Louis 24
, Arizona 23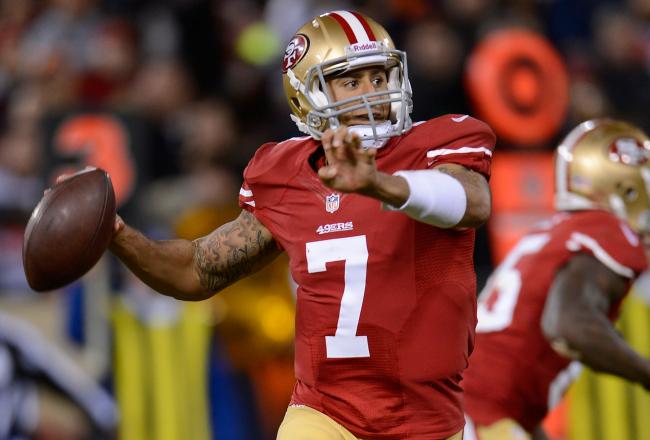 Could this be the start of the Kaepernick era in SF?
San Francisco 49ers (7-2-1) @ New Orleans Saints (5-5)
TheKillerNacho
: This game could seriously go either way... The Saints are playing good enough football to compete with anyone right now, especially at home. But the 49ers are the better team and showed they could be even better with Colin Kaepernick at the helm. I think Kaepernick should have another good game against the Saints defense and with the 49ers defense giving some problems to Drew Brees, it should be enough to win it. But I could easily be wrong here.
San Francisco 28
, New Orleans 27
Billy
:
San Francisco 31,
New Orleans 42
American Football Simulator
:
San Francisco 26
, New Orleans 24
Green Bay Packers (7-3) @ New York Giants (6-4)
TheKillerNacho
: The Giants are coming off their bye, and should come out hungry after their embarrassment against the Bengals. But the Packers equally want to win this game to continue to secure their dominance over the NFC North. I'm going with the Packers. Having said that, the Giants will most likely win because they always win when everyone thinks they're going to lose (and vice-versa).
Green Bay 30
, New York G 27
Billy
:
Green Bay 45
, New York G 28
American Football Simulator
:
Green Bay 25
, New York G 23
Carolina Panthers (2-8) @ Philadelphia Eagles (3-7)
TheKillerNacho
: What a pointless Monday night matchup. Sadly, this is another hard game to predict... If the Eagles actually show up, they'd be the favorites but I think they've given up on Andy Reid.With Foles looking poor, I think Carolina should take this.
Carolina 27
, Philadelphia 23
Billy
:
Carolina 20,
Philadelphia 24
American Football Simulator
:
Carolina 26,
Philadelphia 27
Question of the Week
Two weeks ago, I asked "
Which rookie in the NFL will win Rookie of the Year?
" between
Andrew Luck (IND), Robert Griffin III (WAS), Doug Martin (TB)
, or
Trent Richardson (CLE)
? As I suspected, the rookie Quarterbacks ran away with the poll. Andrew Luck was first with 40%, while Robert Griffin came in a close second with 30%. Doug Martin won out of the two Runningbacks with 20%, with only 10% for Trent Richardson.
This week, I'm going to renew my usual Thanksgiving poll... "
Which of the three Thanksgiving "F"s do you look forward to the most?
" between
Food
,
Family
, or
Football
? While I love Football, I have to go with either Food or Family this Thanksgiving... one, the games don't look that great. And two, I recently got engaged to my lovely fiance, Katelyn Brown... so it should be nice to relax with her this holiday season.
Vote on the right-hand side of my blog!!