Overall, a good week for me in the NFL. My Dolphins won, all my fantasy teams won, and I took another step forward in these Predictions, beating both Billy and the AFS. Let's see how last week shuffled up the Power Rankings, shall we?
Biggest Winner
: San Francisco 49ers, Cincinnati Bengals, Miami Dolphins (+3)
Biggest Loser
: Pittsburgh Steelers, New York Jets (-4)
1. Houston Texans
(10-1,
+1
): I'm starting to worry about this team, putting up two near-misses in a row, the latest being an overtime win on Thanksgiving in which Detroit was robbed the game by their head coach. Still, I can't think of any other team to put here at #1, every team has looked vulnerable this year, and the Texans probably the least.
2. San Francisco 49ers
(8-2-1,
+3
): Two defensive touchdowns against Drew Brees helped the 49ers prevail over the Saints, 31-21. Colin Kaepernick continues to impress, but one really has to feel bad for Alex Smith, who was unfairly benched. Still, this is the NFL. You have to give props to Jim Harbaugh for putting in a guy he thinks will give his team the best chance to win.
3. New England Patriots
(8-3,
+2
): The Patriots are playing really well down the stretch, as they always do. They have all but clinched the AFC East after a 49-19 Thanksgiving romp of the Jets. Not only is Tom Brady playing well, but their defense scored a couple touchdowns, too. I would not be shocked at all to see the Patriots repeat as AFC champion.
4. New York Giants
(7-4,
+2
): Coming off their bye and two straight losses, the Giants responded against the Packers, showing everyone once again how good the Giants are when doubted. No one thought they'd be able to pull off a 38-10 blowout, however. The Giants are good enough to play with anyone, which means a repeat is entirely possible.
5. Atlanta Falcons
(10-1,
-1
): The Falcons once again found a way to win on Sunday, but they are probably the least dominating 10-1 team I've ever seen - and they have had a relatively easy schedule to boot. Don't get me wrong, I still think the Falcons are a Top 5 team, but part of me is beginning to wonder if they'll be one and done in the playoffs, again.
6. Green Bay Packers
(7-4,
-3
): The wheels fell off the Packers hype train with their embarrassing 38-10 loss on Sunday night against the Giants. There is no doubt in my mind that the Packers will be able to rebound from this defeat, but the Giants showed that the Pack have significant holes on both their offense and defense that the Packers need to address.
7. Chicago Bears
(8-3,
+0
):
Jay Cutler coming back really helps this team, as he is one of the most underrated Quarterbacks in football. What also helps is forcing turnover after turnover on defense. Some local channels following the Vikings-Bears game switched over at halftime because the blowout was so brutal.
8. Denver Broncos
(8-3,
+0
): The Broncos showed why you can't afford to sleep on any division game in the NFL, as it looked like the Chiefs were close to an upset on Sunday. I say close because Peyton Manning is obviously still Peyton Manning and helped the Broncos overcome what would've been a humiliating defeat. Still, the near miss keeps the Broncos from moving up on these rankings, at least for this week.
9. Baltimore Ravens
(9-2,
+0
): Speaking of near misses... Then again, I don't think there would be any doubt that the Ravens would find a way to win this game, nor that the Chargers would find a way to lose it. Ray Rice's 28 yard catch on 4th and 28 pretty much put the nail in the coffin of everyone's mind. The Ravens would go on to win the game in overtime, a game they were down 13-3 going into the 4th quarter.
10. Tampa Bay Buccaneers
(6-5,
+1
): For the life of me, I couldn't decide which team to put here. I eventually decided to put the Bucs in despite a near loss to the rival Falcons on Sunday. The Buccaneers are playing strong football and are one of the leading contenders of an NFC wildcard birth, in my mind.
11. Seattle Seahawks
(6-5,
-1
): It's hard for a west-coast time to travel to the east-coast for a 1 PM game in the NFL, so I won't count their 24-21 loss to the Dolphins much against them. Further, the Seahawks most likely would've won the game had it not been for Earl Thomas committing a stupid penalty turning an redzone interception into a touchdown for the Dolphins.
12. New Orleans Saints
(5-6,
+1
): Even with the loss last week to the 49ers, the Saints are playing much better since Joe Vitt returned to his head coaching duties. The Saints should continue to put up good football from here on out, and may even be able to compete for an NFC wildcard spot.
13. Indianapolis Colts
(7-4,
+1
): Make any excuses you want, but the Colts are now 7-4 with a rookie Quarterback after going 2-14 the year before. This is a monster turnaround, and the Colts now have a pretty good lead in the AFC wildcard race. Their schedule gets a bit tougher down the stretch, it will be interesting to see if the Colts can hang on.
14. Cincinnati Bengals
(6-5,
+3
): At 6-5, the Bengals are very much in the hunt for an AFC wildcard. With the Steelers' problems at Quarterback, this could open the door for the Bengals to take the wildcard spot the Steelers are currently occupying. The Bengals have played impressive football the last three weeks, the latest victory being a 38-10 blowout over the Raiders.
15. Minnesota Vikings
(6-5,
+0
): The Vikings did the best they could without Percy Harvin against the Bears... I really have to wonder how much they wish they were in the AFC right now. Unfortunately for them, the Vikings are quickly becoming burried in a crowded NFC wildcard picture. Realistically, I would say they have to win out if they want a shot. They face another hard game traveling to Lambeau to play the Packers in Week 13.
16. Pittsburgh Steelers
(6-5,
-4
): Charlie Batch looked quite aged in his performance against the Browns, this team is
really
missing Ben Roethlisberger. The Steelers offense simply looks inept without him. At 6-5, the Steelers still would make the playoffs as a wildcard if the season ended today, but realistically, they have to play much better for the final five games to make it in.
17. Washington Redskins
(5-6,
+2
): In my mind, Robert Griffin III has proved to me he's (for now) the best rookie Quarterback in the NFL. Another flawless game against a legitimate defense, Griffin led the Redskins to a huge halftime lead over the Cowboys on Thanksgiving, a lead they were able to ride out to get a much-needed win. At 5-6, their playoff chances still seem slim at this point but they may have a chance if they can win out.
18. Detroit Lions
(4-7,
+2
): To think the Lions could've beaten the #1 Texans on Thanksgiving if it wasn't for head coach Jim Schwartz giving (no pun intended) the Texans a free touchdown due to throwing the challenge flag on a play that would've already been reviewed. Its a stupid rule, but an even stupider decision by the man responsible for keeping the team calm.
19. San Diego Chargers
(4-7,
-3
): Was there any doubt that the Chargers would find a way to lose that game? Even while leading in the 4th quarter, forcing the Ravens into a 4th and 28 position at the end of the game, Ray Rice catches a two yard pass only to follow up with a twenty-six yard scamper filled with poor tackling and angles taken by Chargers defenders. Norv Turner's done.
20. Dallas Cowboys
(5-6,
-2
): The Cowboys are now collectively sucking, as shown on Thanksgiving. The only bright spot was Dez Bryant's performance (except for his fumble early in the game), he's quickly becoming an elite NFL wide receiver. But with the defense starting to falter due to some key injuries, the Cowboys are done this year. And if Jason Garrett can't gather up some false hope, he may be gone as well.
21. St. Louis Rams
(4-6-1,
+2
): Watching the Rams is completely different this year under Jeff Fisher than it has been any other time in recent memory. This is a team that for the most part is playing very good football. With Danny Amendola likely coming back completely healthy for next week, the Rams could find a way to get some upsets near the end of the year, spoiling some dreams. They get a home game against the 49ers, who they tied with earlier in the year, for Week 13.
22. Buffalo Bills
(4-7,
+0
): Is it just me or have the Bills completely under-utilized C.J. Spiller, arguably their best player? Spiller is arguably the most explosive back in football, averaging 6.7 yards per carry but has a mere and puzzling 123 carries on the season, much of which when Fred Jackson was down to injury. He's also been an effective receiver, catching 32 passes for 332 yards, and five total touchdowns. Get this man the ball, Chan Gailey!
23. Miami Dolphins
(5-6,
+3
): It was nice to see the Dolphins return to solid football, and against a good opponent like the Seahawks, to boot. While the Dolphins offense struggled early, they were eventually able to get to the ground and pound, which later opened the air a bit for Ryan Tannehill to make some good throws to lead the Dolphins to a comeback 24-21 win over Seattle. Being 5-6 in the AFC, the Dolphins are in the hunt but I wouldn't hold my breath for them to make a big "splash", at least this year.
24. Tennessee Titans
(4-7,
+0
): The Titans may have lost, but they are still clearly playing better football now than they were earlier in the year. Jake Locker looks to be the real deal for the Titans, as their offense is looking much more consistent and balanced. Chris Johnson and Kenny Britt are starting to look like their former selves, too. Defensively, they're clearly playing better than the defense that was on pace to finish with the most allowed points in a season.
25. New York Jets
(4-7,
-4
): I'm not even sure anymore if Rex Ryan can keep his job going into next season. The Jets have been a circus this year, and a 49-19 Thanksgiving loss to the Patriots only makes that worse. Long-time superfan Fireman Ed, even went as far as to
announce his retirement
following the loss. Apparently he was getting harassed by other Jets fans for his questionable support of Mark Sanchez. Still, when Fireman Ed gives up on the Jets, you know they're in trouble.
26. Carolina Panthers
(3-8,
+2
): At least the Panthers can hang their hats on the fact that they are better than the Eagles... well okay, we know that's not saying much. But Panthers fans still have to feel good about seeing Cam Newton return to his 2011 form, even if it was just for one game. He tossed two touchdowns against the Eagles, running for two more, all the while protecting the ball for the entire game.
27. Cleveland Browns
(3-8,
+2
): Granted, it was without Ben Roethlisberger, but Browns fans have to feel good about severely hurting the Steelers in the wildcard race with their 20-14 win at Pittsburgh last week. The Browns defense has played well all season, forcing turnovers from 3rd-string Charlie Batch on Sunday. The Browns offense didn't play extremely well but found ways to score enough points to win.
28. Arizona Cardinals
(4-7,
-3
): The Cardinals dropped to seven straight losses on Sunday, after starting 4-0. I'd say that the offensive line is the cause, but I say that every week so let's talk about rookie Ryan Lindley, who started in place of John Skelton last week. He was intercepted four times, getting no time to throw on any play. That's all there is to say on that... on a side note, though, he becomes the sixth rookie Quarterback to start a game this year. Is that some sort of record?
29. Philadelphia Eagles
(3-8,
-2
): With the Eagles dropping to their 8th win, the ultimatum is complete, Andy Reid will be gone. I really feel bad for the guy, though. The Eagles have been competitive for pretty much every other year since this guy has been head coach, and this season couldn't have come at a worse time considering the loss of his son. I have no doubt he'll be back coaching if he wants to be.
30. Jacksonville Jaguars
(2-9,
+1
): Chad Henne, with his second straight good game, has exposed just how bad Blaine Gabbert is. I like Henne, being a Dolphins fan, always liked the guy. I think he'll lead the Jaguars to a decent second half of the season. Sadly, he'll probably get the same treatment Matt Moore did last year with the Dolphins... the Jaguars will probably draft a 1st round Quarterback... with the Chiefs probably getting Geno Smith, Matt Barkley seems to be the favorite to land in a Jaguars uniform next year.
31. Oakland Raiders
(3-8,
-1
): The Raiders are really struggling without Darren McFadden, their best playmaker. Carson Palmer continues to show why he can't be considered a franchise Quarterback at this point in his career. The Raiders have a first round pick this year, the first time in several years. Don't be surprised if they spend it on a signal caller.
32. Kansas City Chiefs
(1-10,
+0
): The Chiefs surprisingly came to play against Denver, but predictably lost the game anyway. With the Jaguars winning, though, the Chiefs are a few losses away from clinching Geno Smith in next year's draft. Speaking of current Chiefs Quarterbacks, Brady Quinn didn't look half bad... he didn't turn the ball over. Of course, he didn't score any points, either...
Predictions for Next Week
TKN's last week accuracy:
11-5 (68.75%)
Billy's last week accuracy:
8-8 (50.00%)
AFS's* last week accuracy:
8-8 (50.00%)
TKN's Overall 2012 accuracy:
112-64 (63.63%)
Billy's Overall 2012 accuracy:
100-76 (56.81%)
AFS's* Overall 2012 accuracy:
113-63 (64.20%)
*American Football Simulator averages of 2,000 simulations.
As I said earlier, I made up some major ground in Week 12, going 11-5 while the AFS and Billy struggled in last week's predictions, both going 8-8. This puts me only 1 game behind the AFS. I'm looking to complete the comeback this week!
Drew Brees threw two pick sixes last week.
New Orleans Saints (5-6) @ Atlanta Falcons (10-1)
TheKillerNacho
: As with the last matchup, the Saints are going to come in and play the Falcons hard. This time, however, the Falcons get the homefield advantage on a short week. I think that will give the edge to the Falcons to win this game.
New Orleans 27,
Atlanta 30
Billy:
New Orleans 26,
Atlanta 34
American Football Simulator:
New Orleans 25,
Atlanta 27
Seattle Seahawks (6-5) @ Chicago Bears (8-3)
TheKillerNacho
: This is another tough road game for the Seahawks, a team that often struggles on the road. The Bears defense is great at forcing turnovers, and will give rookie Russell Wilson a hard time. I think he'll struggle like we saw him struggle against the 49ers earlier in the season.
Seattle 17,
Chicago 21
Billy:
Seattle 22,
Chicago 24
American Football Simulator:
Seattle 20,
Chicago 24
Houston Texans (10-1) @ Tennessee Titans (4-7)
TheKillerNacho
: I wouldn't be surprised to see the Texans struggle for a third time in a row, but this is a matchup the Texans ought to win. Then again, its a division game against a tough to predict Titans team...
Houston 29
, Tennessee 21
Billy:
Houston 21
, Tennessee 10
American Football Simulator:
Houston 27
, Tennessee 24
Coming off a good game, Tannehill takes on NE for the first time.
New England Patriots (8-3) @ Miami Dolphins (5-6)
TheKillerNacho
: Sadly, I don't see the Dolphins being able to compete with the Patriots. The Patriots are simply the better team. The only glimmer of hope is that the Dolphins always seem to play the Patriots close. I just hope for a good game from Ryan Tannehill and to remain competitive... unlike the Jets.
New England 28
, Miami 23
Billy:
New England 28
, Miami 25
American Football Simulator:
New England 25
, Miami 20
Jacksonville Jaguars (2-9) @ Buffalo Bills (4-7)
TheKillerNacho
: I expect Chad Henne to play well against his former division rival, the Buffalo Bills but ultimately I think if the Bills start to utilize C.J. Spiller, the banged up Jacksonville defense will be hard-pressed to stop him. I'll go with Buffalo at home.
Jacksonville 24,
Buffalo 26
Billy:
Jacksonville 20,
Buffalo 23
American Football Simulator:
Jacksonville 22,
Buffalo 26
Indianapolis Colts (7-4) @ Detroit Lions (4-7)
TheKillerNacho
: This will be a harder game for Andrew Luck and the Colts than one would think... the 4-7 Lions have played some good football in the last few games and would be 5-6 if it wasn't for Jim Schwartz's screw up on Thanksgiving. At home, I actually like the Lions to upset the Colts.
Indianapolis 24,
Detroit 27
Billy:
Indianapolis 24,
Detroit 27
American Football Simulator:
Indianapolis 21,
Detroit 25
Carolina Panthers (3-8) @ Kansas City Chiefs (1-10)
TheKillerNacho
: Both teams have been awful this year but Cam Newton showed that he can still be a big play-maker last week against the Eagles. I think he'll ride this momentum and put together a second straight good performance against the pitiful Chiefs.
Carolina 28
, Kansas City 16
Billy:
Carolina 20
, Kansas City 10
American Football Simulator:
Carolina 24
, Kansas City 23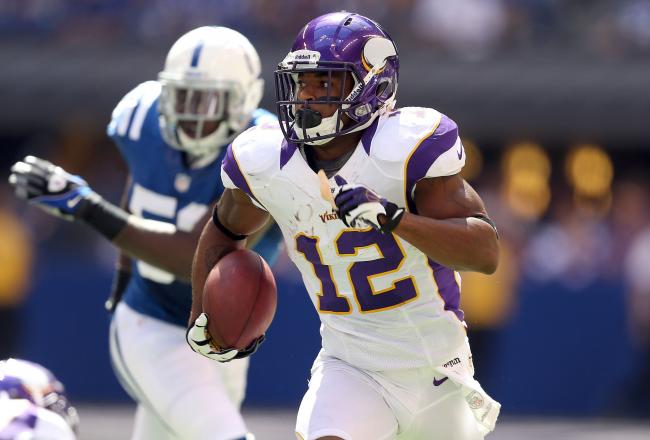 The Vikings hope to get Percy Harvin back for this key matchup.
Minnesota Vikings (6-5) @ Green Bay Packers (7-4)
TheKillerNacho
: This is a very important game in the NFC North, and the NFC in general. The Packers need to win this game to keep up with the Bears in the division. Meanwhile, the Vikings can make up significant wildcard ground if they can beat the Packers here. I think the Packers will likely rebound at home but the Vikings could come out and score an upset.
Minnesota 20,
Green Bay 27
Billy:
Minnesota 24,
Green Bay 31
American Football Simulator:
Minnesota 21,
Green Bay 27
San Francisco 49ers (8-2-1) @ St. Louis Rams (4-6-1)
TheKillerNacho
: Last time these two teams faced, it ended in a surprising tie. This time, the 49ers have Colin Kaepernick but the Rams are at home. Like the last time, I'm going to pick the 49ers... but this has "trap game" written all over it.
San Francisco 24
, St. Louis 17
Billy:
San Francisco 35
, St. Louis 17
American Football Simulator:
San Francisco 25
, St. Louis 21
Arizona Cardinals (4-7) @ New York Jets (4-7)
TheKillerNacho
: Both of these teams suck this year, but the Jets are at home facing a team with the worst offensive line at football, nothing at Quarterback, and have lost seven straight games. The Jets should win here but it will be a defensive struggle that will come down to the wire.
Arizona 13,
New York J 15
Billy:
Arizona 21
, New York J 14
American Football Simulator:
Arizona 20,
New York J 25
Tampa Bay Buccaneers (6-5) @ Denver Broncos (8-3)
TheKillerNacho
: While I like the Bucs a lot, one has to go with Peyton Manning at home. The Broncos are overall the better team and have one of the best homefield advantages at Mile High.
Tampa Bay 20,
Denver 27
Billy:
Tampa Bay 35,
Denver 41
American Football Simulator:
Tampa Bay 22,
Denver 25
Pittsburgh Steelers (6-5) @ Baltimore Ravens (9-2)
TheKillerNacho
: The Ravens should pretty easily dispatch the Charlie Batch-led Steelers. Nothing else to really say, here.
Pittsburgh 14,
Baltimore 20
Billy:
Pittsburgh 17,
Baltimore 21
American Football Simulator:
Pittsburgh 21,
Baltimore 24
The Chargers find new ways to lose every week.
Cincinnati Bengals (6-5) @ San Diego Chargers (4-7)
TheKillerNacho
: The Bengals are hot, and the Chargers are well, not. The Chargers will find a way to lose this game. I wouldn't be surprised if was another Bengals blowout, either.
Cincinnati 26
, San Diego 23
Billy:
Cincinnati 27
, San Diego 16
American Football Simulator:
Cincinnati 22,
San Diego 24
Cleveland Browns (3-8) @ Oakland Raiders (3-8)
TheKillerNacho
: The Raiders are struggling a lot while the Browns are playing hard football. At 3-8, I don't have a lot of confidence in either of these teams but I do believe Trent Richardson should be able to run all over the Raiders front seven. I'll go Browns.
Cleveland 21
, Oakland 20
Billy
:
Cleveland 30
, Oakland 20
American Football Simulator
:
Cleveland 20,
Oakland 22
Philadelphia Eagles (3-8) @ Dallas Cowboys (5-6)
TheKillerNacho
: Sigh... do we really need to see the Eagles in a prime-time game again? And against the Cowboys, no less? The Cowboys should get a pretty easy victory here but I'm not sure I'm going to watch Sunday night football this week...
Philadelphia 20,
Dallas 30
Billy
:
Philadelphia 20,
Dallas 38
American Football Simulator
:
Philadelphia 24,
Dallas 28
New York Giants (7-4) @ Washington Redskins (5-6)
TheKillerNacho
: This should be a good one. Robert Griffin III in prime-time facing the future champs, fighting to hang on to their last playoff hopes. If they win, the Redskins will not only gain ground in the wildcard race but would only be one game behind in the division! As a trap game for the Giants, I'll go Redskins here...
New York G 24,
Washington 28
Billy
:
New York G 27,
Washington 31
American Football Simulator
:
New York G 24
, Washington 23
Question of the Week
Two weeks ago, I asked "
Which of the three Thanksgiving "F"s do you look forward to the most?
" between
Food
,
Family
, or
Football
? Obviously all good answers, but
Football
won the poll with 50% of the vote.
Food
came in second with 37% with only 12% voting for Friends and Family... I guess my readers don't care for their family, very much!
As I kept saying, the NFC playoff race is really hot and close this year. This week's question is, "
Of all the 6-5 and 5-6 NFC teams, which team is most likely to earn a wildcard playoff birth
?" between the
Seattle Seahawks
,
Minnesota Vikings, Tampa Bay Buccaneers, Washington Redskins, Dallas Cowboys,
or the
New Orleans Saints
? Mathematically, according to
PlayoffStatus.com
, Seattle has the best chance... but I really like Tampa Bay. They'll probably lose this week against the Broncos but I think they have a decent chance to win out.
Vote on the right-hand side of my blog!!