Moss returns to where his legendary career started.
It seems that the trade rumors regarding disgruntled WR
Randy Moss
was
confirmed this morning by Adam Schefter
. Moss returns to where his career started, to a struggling
Minnesota Vikings
team for a 2011 third-round pick. Some may think that this is a rather low price to pay for a player of Moss's caliber, but this was about the most the
New England Patriots
were going to get at this point. It was pretty obvious to most in the NFL that the Patriots had no intention of resigning Moss in the off-season, so really they are getting third-round compensation for his services in the twelve remaining games this season (and a possible playoff run). I'm now going to go into how I perceive this trade will impact these two teams.
First, let's talk about the Minnesota Vikings. They are all-in this season, in win-now mode. They convinced former-HOF QB
Brett Favre
to come back and finish his contract, despite perhaps Favre's better judgment, and starting 1-2 was not that they expected. They find themselves third in their division behind the explosive
Green Bay Packers
(3-1) and the
Chicago Bears
(3-1). While some of the blame certainly belongs to Favre, some of it also goes to the Minnesota receiving corp. The fact of the matter is, they just aren't getting enough separation with
Sidney Rice
out for half of the season, and
Percy Harvin
still recovering from his "condition". The Vikings rank only 24th in passing, in a season where Brett Favre has thrown only two touchdowns, with six interceptions for a QB rating of 60.4.
Randy Moss was targeted just once last week @ the Dolphins.
But let's be serious. Randy Moss is no spring chicken, either. He's only caught nine passes this season, and it's not because New England is picking on Randy. It's because Randy Moss is not the same player he was a couple of seasons ago. He's not getting separation either. In his last game, a 41-14 win over the
Miami Dolphins
, he caught no passes and was only targetted once during
Tom Brady
's fake-spike play. While part of this lack of production is due to coming-of-age Dolphins CB
Vontae Davis
, it is clear Randy Moss has not been as productive this year. But he is still better than the likes of
Bernard Berrian
, and so the Vikings benefit from this trade. Randy Moss fantasy owners - do not fret. While Brett Favre is far from the accurate passer QB Tom Brady is, you know that Favre will force it to Randy Moss more than Brady did. Randy Moss will have to learn to adjust to Brett Favre's off-target throws, since he has been spoiled over the last four years by Tom Brady's accurate beauties, but I believe he can learn to do that. I do not think Randy Moss's fantasy value will be hurt by this trade (but it probably won't get better, either).
The real winner of this trade?
Adrian Peterson
. While Randy Moss is not the WR he once was, he still demands a lot of defensive attention. Despite only nine catches this season, he demands a lot of defensive double-teams. This will work well for the Vikings, since teams have been stacking the box this season to stop Adrian Peterson, confident that their CBs can defeat the Vikings battered receiving corp one-on-one. This also allows them to blitz Favre on obvious passing downs with literally no risk. Now, they cannot stack the box. If they do, Randy Moss can still beat a lot of CB in the NFL one-on-one, and Favre will get him the football. I think we see Adrian Peterson get even more effective this season now that this deal is done.
Overall, I'd say the Vikings benefit from this trade a lot. Once Sidney Rice comes back, Brett Favre will have a receiving corp of Randy Moss, Sidney Rice, and Percy Harvin. That is an elite group right there. Add in Adrian Peterson, and this offense will be capable of some very scary things. The Vikings head to New York to face a very good
Jets
(3-1) team Monday night, and they are hoping Randy Moss can give them a chance. Maybe CB
Darrelle Revis
will be back to get another chance against this "slouch".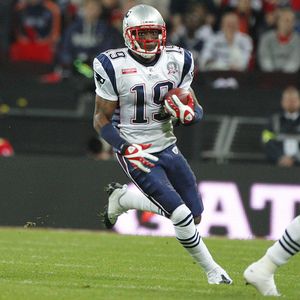 Brandon Tate stands to benefit from Moss's departure
Now, let's look at the Patriots. Some have said that this trade points to a lack of confidence that the Patriots have in their chances this season. Honestly, this cannot be the case. The Patriots are 3-1 and are coming off a promising win. Instead, I view this as confidence in their new, younger receiving corp. I'm not going to argue that losing a future-HOF WR is going to make their team better. It doesn't. But Tom Brady did it before without an elite receiving corp, and the Patriots have not one, but two promising young WR in
Julian Edelman
and
Brandon Tate
. Both of these young guys have shown a lot of potential in their two season in the NFL. Tom Brady is very good at spreading the ball around, and that is the real mark of an elite QB opposed to a good QB. While it may be harder without Randy Moss demanding some double teams, and
Wes Welker
may get less effective as a result, I think they will be O.K. overall.
Randy Moss was verbal with his displeasure after the victory over the Bengals
But why make this move now, in a season where you are Super Bowl contenders, potentially? HC Bill Belichick is a non-nonsense kinda guy. And Randy Moss has become somewhat of a distraction. Moss is heading into the last year of his contract this year, so he has been unhappy with his contract situation this year and has also been upset with his role in this offense. Not only did he verbally vocalize his displeasure after their Week 1 win over the
Cincinnati Bengals
, reports have recently come out that
Moss had asked the Patriots Front Office for a trade as early as Week 1
and after their win Monday night against the Dolphins,
had a verbal argument with Belichick
. Belichick will not allow this kind of distractions for his team, no matter who is causing them, and he may view unloading Moss for a third-round pick is the best thing he can do right now.
Let the Vincent Jackson to New England rumors begin!
We'll see how this effects the Patriots. Keep in mind that while Brady has experience with a no-name WR corp, they also had a considerably better defense in those Super Bowl years than they do now. The defense will have to step up if this Patriots team is going to succeed. But I will be surprised if their offense loses much of a step. Fantasy-wise, one should try to target Brandon Tate or Julian Edelman in Free Agency if they are available in your league, as they are likely to see an increased role. One last thing to consider that seems to be nagging at me... the Patriots seem to be committed on getting younger, and now have traded their only deep threat. At the same time, there is a certain younger, other disgruntled WR of the
San Diego Chargers
who could be considered a vertical threat. Now, it is purely speculation on my behalf, but can anyone come up with a good reason, with all of the draft picks New England has accumulated in the 2011 draft, that they would not look into the asking price for
Vincent Jackson
? If they do, it may rain on the parade of other AFC East team fans who are now rejoicing because of not having to deal with Moss twice a year anymore.
Overall, this is a good trade for both teams. The Minnesota Vikings get a chance to save their season, and the Patriots get a third-round pick for a disgruntled WR who, in all liklihood, would've walked at the end of the season anyway.