Cundiff looks at his colossal 32 miss during the final seconds.
Since there's only two remaining teams, I'm not going to do Power Rankings this week, but I will post some recaps about yesterday's Conference games. If there is anything to learn from these games, its that:
Bad Special Teams lose Championships
. I bolded this because of how true it is. Baltimore would've pushed the game into overtime had it not been for Billy Cundiff's 32 yard missed field goal in the final seconds of the game. Meanwhile, San Francisco's Kyle Williams, who was returning punts due to the injury to Ted Ginn, fumbled two punts; one which led to 7 points and allowed the game to Overtime... the second time in after-mentioned Oftertime to lose the game (since it gave the Giants the ball in field goal range). Its debatable which of these mishaps are more excusable, but still, it would be like choosing between deadly poisons to drink. If I were the GM of the Ravens / 49ers, I'd consider cutting these guys on the spot for these mistakes. Ugh.
As to the rest of the game, we were blessed with two great games. Despite the Cundiff miss, New England probably deserved to win that game, their defense playing well to overcome Tom Brady's two picks. Vince Wilfork had a monster game, proving that he was one of the best interior linemen in the NFL. Joe Flacco had a pretty solid game but a late-game pick really hurt the Ravens. Lee Evans could deserve as much of the blame as Cundiff, too, for dropping a potential Touchdown on the same drive.
Kyle Williams knew he lost the game for the 49ers in OT.
As for the NFC championship, it was a Mud Bowl as predicted. Both defenses took advantage of the weather, but it was no doubt in my mind that the 49ers were the more impressive team. Despite Alex Smith looking completely unlike his great performance against New Orleans, the 49ers defense played hard and was able to stop pretty much everything the Giants tried to do. The Giants defense, meanwhile, played well but could not stop Vernon Davis, who had not one but two huge touchdown receptions. One could seriously wonder if Ted Ginn were not injured, if the 49ers would've won this game 17-10, no overtime. I suppose we'll never know.
Bowl Predictions
TKN's accuracy, Last week:
1-1 (50.00%)
Billy's accuracy, Last week:
1-1 (50.00%)
AFS's* accuracy, Last week:
0-2 (0.00%)
TKN's Overall 2011 accuracy:
175-91 (65.79%)
Billy's Overall 2011 accuracy:
178-88 (66.92%)
AFS's* Overall 2011 accuracy:
171-95 (64.28%)
First of all, congratulations to Billy. With a three game lead, he officially wins our little pick'em challenge since there are only two remaining games, the Pro Bowl and the Super Bowl. Although I like to think that all of our predictors did well this season, looking at a lot of other pick'em sites, very few did as well as we did. Now, enough contragulations... on to the Bowls!
PRO BOWL: AFC (0-0) vs NFC (0-0)
TheKillerNacho:
Picking the Pro Bowl is always rolling dice. There is very little effort spent on scheme and you never know what players are really going to show up and which ones aren't. Looking at the rosters again after the alternates are added to account for Patriots and Giants players, I think that the losses to the roster for the AFC that the Patriots being in the Super Bowl are more severe than the Giants players. I mean, the AFC has Andy Dalton playing Quarterback instead of Tom Brady... enough said. I'll pick NFC.
AFC 24, NFC 30
Billy:
AFC 33, NFC 47
American Football Simulator:
AFC 26, NFC 25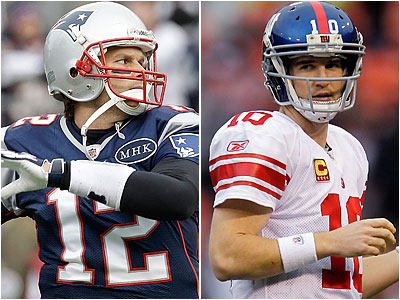 Brady wants revenge on Eli, who has beaten the Pats two straight.
SUPER BOWL: New York G (12-7) vs New England (15-3)
TheKillerNacho:
Despite this not being exactly what I wanted, this is a pretty exciting Super Bowl matchup, being a repeat of the Super Bowl three years ago where the wildcard Giants defeated the 18-0 Patriots in a Super Bowl of epic proportions. Eli Manning then continued his streak on Tom Brady earlier this season. The way the Giants defense is playing, we know they are going to get to Brady to disrupt his throws, that will be key on defeating the Patriots. And Eli Manning is never a guy you should underestimate, he is easily better than Joe Flacco and Tim Tebow and will be the perfect guy to take advantage of New England's poor secondary if the Patriots fail to get pressure on him. I'm taking the G-Men in a game that comes down to the very end.
New York G 28, New England 27
Billy:
New York G 31, New England 27
American Football Simulator:
New York G 23, New England 24
Question of the Week
Last week, I asked my readers
Which Super Bowl would you most like to see?
between
New England vs San Francisco
,
New England vs New York Giants
,
Baltimore vs San Francisco,
or
Baltimore vs New York Giants
?
33% of my viewers got exactly what they wanted, a Giants / Patriots Super Bowl. Of course, 44% of my viewers got exactly what they didn't want... wanting a Ravens / 49ers Super Bowl. The remaining 22% wanted Patriots / 49ers (no one wanted Ravens / Giants). Using this, we can also determine which individual team was most popular (which most people wanted to see in the Super Bowl):
San Francisco 49ers 66%
New England Patriots 55%
Baltimore Ravens 44%
New York Giants 33%
Yesterday we saw two inexcusable Special teams play. As I previously mentioned... Bad special teams loses championships. However,
Which game-losing Special teams play during the Conference Championships was less excusable
? Former pro-bowl kicker
Billy Cundiff's 32 yard missed field goal
? Or backup punt returner
Kyle Williams' two lost fumbles
? You be the judge. As for my opinion... Cundiff was a pro bowler last year, he had no excuses for missing a game-tieing field goal. Its the one thing you have to do on the field. Kyle Williams was trying to make plays and does not normally return punts, but his two fumbles basically cost the 49ers the game, turning a win into a loss so I think his mistakes were worse.