I think a lot can be said about the character of some teams from what they showed last Sunday. How teams react in pressure, or lack thereof, is a critical part of how well a team performs, and it is often missed by the "experts" in all of the analysis. A perfect example was last Sunday's game between the Packers and the Cowboys. The way the Packers defense is able to respond despite all the injuries is nothing short of spectacular, they are a team that refuses to give up. Contrary to their opponent, the Cowboys, who have seemed like they have gave up before the season even began... it looks like they are content with a 1-win season. Let's see how much Week 9 shakes up my Power Rankings. It seems to be more of just a shake-up this week, no major changes. This tends to be the part of the season where things start getting ironed out, anyway.
Also, just a note, I have decided to discontinue the Formulaic Rankings. Took a little too long to calculate each week. Maybe after the season I will do some Formulaic rankings for the entire season.
Biggest Winner
: Cleveland Browns (+3)
Biggest Loser
: Indianapolis Colts, New England Patriots, Miami Dolphins (-3)
1. New York Giants
(6-2,
+1
): So after last week's thrashing of the Seahawks, is there any doubt that the Giants are #1? Maybe some will doubt, but not me. I've underestimated this team too much. Perry Fewell has done an absolutely outstanding job with this defense, and this offense is really starting to show how potent it can be with upcoming stars like
Hakeem Nicks
and
Ahmad Bradshaw
.
2. Baltimore Ravens
(6-2,
+2
): A great showing against the 'Fins secures this team's spot at #2 once again, I think. The defense showed that it could correct the problems we've seen in recent weeks before the bye week, and even if
Joe Flacco
is Captain Checkdown, it gets the job done. Good job by OC Cam Cameron abusing screens to confuse an overly aggressive Dolphins defense. On a side note... why does it always seem like
Ed Reed
is in the right place at the right time? He's played two games... and has
three
interceptions. Scary.
3. Pittsburgh Steelers
(6-2, +0): What the Steelers have that other teams don't is an unreal defense and a two-time Super Bowl champion QB in
Ben Roethlisberger
. They may not be the kind of team that lights up scoreboards or highlight reals, but this team knows how to win the only game that matters. One would be a fool to count them out. On a side note,
Troy Polamalu
does more for a defense than nearly any defensive player I've ever seen. He may be one of the best, if not the best, Safety to ever play the game.
4. Indianapolis Colts
(5-3,
-3
): Injuries may have finally caught up with them. With their two top RBs injured, it seemed they could not run at all against a stout Philadelphia defense. In addition,
Peyton Manning
seems to be struggling due to the lack of receivers to work with. To add to their offensive injuries, it has been confirmed now that
Anthony Gonzalez
will also be put on IR... again
. To make matters worse, the scary injury to
Austin Collie
against the Eagles
was a severe concussion
, he could be sidelined the next couple games. Hopefully for them, they will find some answers.
5. Atlanta Falcons
(6-2,
+2
): A close but convincing win against the Tampa Bay Buccaneers solidifies them as a top-tier team this year. It seems no matter where you look, this team is brimming with talent.
Michael Turner
has overcame his slow start and is starting to put together a very good year. They have a real shot to hold onto the NFC South (which is no easy task) and if they somehow lose it, I think this team is almost a lock for a wildcard.
6. New York Jets
(6-2,
-1
): So they come off their shut-out loss against the Pack to almost drop to the Lions? That's not good news for a Jets team who was supposed to be very good after finally getting healthy. I will give credit where credit is due - their late-game rally to defeat the Lions was impressive but it should've never came to that for a Super-Bowl contender, anyway. The defense still is playing well, but the offense really needs to get their collective acts together if they want to be the Super Bowl contender that Rex Ryan is trying his hardest to sell them as.
7. New Orleans Saints
(6-3,
+1
): Now this team is really starting to get back on track! Granted, it was only the struggling Panthers, but it was nice to see two-straight convincing wins by these Saints. Taking care of in-division business is huge.
Drew Brees
and the Saints defense played great games - but they won't play the Panthers every week. They find themselves in the hunt for a surprisingly tough division.
8. Green Bay Packers
(6-3,
+2
): They took care of business at home against a bad Cowboys team last night - even if it was against the Cowboys, it was sure spectacular!
Aaron Rodgers
played great, the defense played great, and even the Special Teams got a touchdown. After a rough start involving all of these injuries after off-season hype, it is the character of this team that will bring them to an NFC North crown.
9. New England Patriots
(6-2,
-3
): I don't know if it was just Eric Mangini getting Bellichick back after all these years of strife, or what I've been saying all along... This Patriots offense has some serious issues to deal with. Against the "lowly" Browns, they were only able to score 14 points. Further, their defense got lit up like we've been seeing all season. They may be 6-2, but I don't know how long they will be able to hold it. I just don't see them as a very good team this season.
10. Tennessee Titans
(5-3,
+1
): A nice bye-week for the Titans, watching both the Colts and Texans lose to put themselves in a better position to compete with the AFC South. The Titans won the
Randy Moss
lottery, it will be interesting to see how they will utilize him coming off the bye against Miami, the team that Randy Moss was limited to 0 receptions as a member of the Patriots, the game before the Patriots decided to deal him to Minnesota. I will say one thing about the addition of Randy Moss... much like it did for the Patriots and Vikings, using Randy as a diversion can really open up the middle of the field.
Chris Johnson
has been running into run blitzes all season - won't be so easy to run blitz now that Randy Moss is a huge downfield threat.
11. Philadelphia Eagles
(5-3,
+1
):
Michael Vick
looked great coming off the injury and bye, he hasn't lost a step. He was able to lead the Eagles to multiple scoring drive as they upset the Indianapolis Colts. While the Colts offense is a bit banged up, I must say that their defense did a fine job containing an explosive Colts offense. Now for hyped rematch with ex-Eagles QB
Donovan McNabb
. Will he get his revenge twice... or will the Eagles prevail this time around?
12. Miami Dolphins
(4-4,
-3
): Complete and utter lack of execution. That is all that needs to be said to explain their loss at Baltimore. The defense couldn't tackle or cover simple screens, the receivers (and
Sean Smith
on an interception gift) could not catch or run routes, and both lines failed to prevent/cause pressure. Offensive playcalling still remains an issue, too.
Ronnie Brown
was actually running with success against the Ravens defense, but they abandon the run in the 3rd quarter.. made no sense.
13. San Diego Chargers
(4-5,
+1
): Why is it that the Chargers always seem to start off slow, but get red hot towards the end of the season to make a playoff push? I think they will do it again honestly. And key injuries/losses don't even seem to matter to them. They can do it without
Vincent Jackson
, they can do it without
Malcom Floyd
, and now they can even do it without
Antonio Gates
. This team is going to be scary coming back healthy off their bye!
14. Kansas City Chiefs
(5-3,
-1
): Well, they hiccuped against the Raiders, blowing a 10-0 halftime lead to fall in overtime after a game full of Special Teams mistakes and penalties for the Chiefs. They still have a good shot at the division title, but now that they are only leading the Chargers and the Raiders by less than two games, it's on.
15. Tampa Bay Buccaneers
(5-3,
+1
): Actually, I liked more what I saw from this team in their loss against the Falcons than I did all year about their victories over abysmal teams. They showed the potential to hang in there with a team of great talent, even if they did not pull off the win. Now for the more important question: Can they actually manage to beat a talented team? Until they can do that, they won't be a serious contender.
16. Oakland Raiders
(5-4,
+1
): Nice win against the Chiefs, rallying after facing a 10-0 deficit at the half. Rookie
Jacoby Ford
looked amazing! At first everyone thought he was merely a Return specialist... this is not the case! He has some absolutely athletic catches for
Jason Campbell
, and his explosive speed and quickness helped him catch six passes for 148 yards against the Chiefs. Did I mention that he also had a Kickoff return for a touchdown? They won at home, it remains to be seen if they can duplicate their success in Arrowhead in Week 17.
17. Houston Texans
(4-4,
-2
): Not good for the Texans to drop to 4-4 against the visiting Chargers, falling even more behind the division-leading Colts and Titans, and falling behind in the very tight AFC Wildcard race. They need a rebound - and fast. It will all depend on
Matt Schaub
, in my opinion.
Arian Foster
has played great and has provided a stable running game. Schaub needs to play better to make this offensive as explosive as possible.
18. Minnesota Vikings
(3-5,
+1
): Well for the Soap Opera that is the Minnesota Vikings... at least they got a much-needed win last Sunday. Even if it was an overtime win against the Cardinals. What's going to happen next? Find out next week in the next exciting episode of... the Minnesota Vikings Soap Opera (staring
Brett Favre
and Brad Childress; guest staring
Jay Cutler
)!
19. Washington Redskins
(4-4,
-1
): Well here comes the exciting rematch between
Donovan McNabb
and the Eagles! If he can avoid getting benched for a rather "Gross" Quarterback this time, the Redskins may have a chance. But make no mistake, if the Redskins win this game it will rest on the defense. They will almost certainly to injure
Michael Vick
again to have a chance.
20. Chicago Bears
(5-3, +0):
Jay Cutler
only got sacked once against the winless Bills??? Amazing!! And they won! By 3! Dang, I must've been underestimating this team all along. Or maybe not. We'll find out next week how much their offensive line "has improved" when they battle a much more formidable pass-rusher,
Jared Allen
.
21. Detroit Lions
(2-6,
+1
): They just couldn't finish it out, could they? This team is much better, but still has a lot of work to do. They blew a 4th quarter lead of 20-10 to lose in Overtime 23-20. Better luck next time, I guess. Still, a nice effort from a young and improving Lions team. They may be a real threat next year if they can carry over this potential. Bad news for the Lions is that QB
Matthew Stafford
, who has played great in the last two games,
has re-injured his shoulder and could be out for awhile
.
22. St. Louis Rams
(4-4,
+1
): Don't look now but... because of the Seahawks and Cardinals losses, the Rams are now 1st in the NFC West. A year removed from having the first overall pick, one they spent on talented rookie QB
Sam Bradford
who has played well even without receivers to throw the ball to. How long will they be able to hold onto this division lead? We'll find out next week when they battle the 49ers.
23. Seattle Seahawks
(4-4,
-2
): The Seahawks must really have one of the worst offenses I've seen in recent memory, it's awful. This is the fourth time this season their offense has been held to 7 or less points. And their defense simply isn't good enough to save them. They had an opportunity to run away with this division at 4-2, now they are lucky to still be in contention. If they weren't in the worst division in football, they likely would've been virtually eliminated already.
24. Arizona Cardinals
(3-5, +0): The offense is playing better under
Derek Anderson
, but that didn't stop the team from blowing a 4th quarter lead, like many other teams last weekend. Division still isn't out of reach - as sad as that is - but they will need to bring their A-game for the rest of the season. Hell, what am I saying... they would probably get away with 8-8 in this division.
25. Cleveland Browns
(3-5,
+3
): Thank you, the Cleveland Browns, for cheering me up after the sad Dolphins defeat.
Peyton Hillis
... I love you, man.
Colt McCoy
... one of my favorite QBs now. That was absolutely priceless. It's funny... people were saying that Eric Mangini was on his way out, but it seems like his players are doing more to help him keep his job than Wade Phillips' players.
26. San Francisco 49ers
(2-6,
-1
): They are in the only division in football where playoffs are still a possibility after falling 2-6, but they will be virtually eliminated if they do not defeat the Rams next weekend. It will be a tough matchup, but one they are very capable of winning. We'll see.
27. Jacksonville Jaguars
(4-4,
-1
): They are 4-4, but I still do not think this team is very good. Maybe they will surprise me, though, who knows. As of now though, they still are in a tough division and I do not believe they have the talent to compete for a wild-card.
28. Denver Broncos
(2-6,
-1
): How they respond coming off a bye week having a dreadful record of 2-6 will determine what happens with Josh McDaniels' career. I do not think playoffs are a realistic possibility at this point, but if he has a major turnaround that shows some promise, one may argue that the Broncos could give him another year... but it would have to be some crazy turnaround.
29. Cincinnati Bengals
(2-6,
-1
): Who would've thought it would be
Terrell Owens
as the only Bengal left playing inspired football? Honestly, I saw nearly no effort to win this game towards the end from the Bengals offense. Even after getting pretty lucky with Steeler injuries, they were unable to do much. In a game where they were able to run pretty effectively with
Cedric Benson
, you need to do more offensively. The defense did do pretty well getting pressure on
Ben Roethlisberger
, and played pretty good in general but... this team can now be considered collapsed. I doubt Marvin Lewis will be resigned in the off-season, they should probably go with ace defensive coordinator Mike Zimmer as their new head coach if Marvin isn't back... this defense has played good football under him.
30. Dallas Cowboys
(1-7, +0):
Tony Romo
goes, and all of a sudden this team can't do anything? I can't even begin a write-up for the state of this team. They just suck. S-U-C-K... Suck. They're horrible. Horrendous. Terrible. Awful. Abysmal. Y
eah, I think you get the picture now. It's
about time that the Cowboys fire Wade Phillips
. Maybe they didn't want to go 1-15 after all. Although I don't see how Jason Garrett will do much better - he didn't do anything special for the Cowboys offense this season.
31. Buffalo Bills
(0-8, +0): Once again they fight really hard but barely fall short against a legitimate opponent. They'll win eventually, but how long will it take? As a Dolphins fan, I can't believe I'm saying this, but I'm rooting for them.
32. Carolina Panthers
(1-7, +0):
Matt Moore
has confirmed to be out for the year
, not that it really matters. It doesn't really matter who Quarterbacks for this team, they will struggle against every team in the NFL. I guess now it falls to either rookie
Jimmy Clausen
or rookie
Tony Pike
, which is kind of a good thing... mine as well see what you have in your rookies. It is doubtful John Fox returns at the end of this year, wonder who it will fall to to turn this franchise around.
Predictions for Week 7
Prediction accuracy for Week 6:
9-4 (69.2%)
Overall prediction accuracy:
39-29 (57.4%)
Baltimore (6-2) @ Atlanta (6-2):
Atlanta by 3. Oh man! What a great matchup for the first Thursday-night game of the season, I can't wait! Who will win is anybody's guess, but I'm going to go with my gut and go with the home crowd. The Falcons are very difficult to beat at home.
Detroit (2-6) @ Buffalo (0-8):
Detroit by 7. Buffalo will get another opportunity to snap its winless record, but I'm not going to pick them this week. The Lions are playing great as of late, too, and I think they are the better team. Even at the Ralph. Although it would not surprise me one bit if the Bills did get their first season win this week.
If there were two games Mangini wanted this season, it was the Patriots and Jets.
New York J (6-2) @ Cleveland (3-5):
New York J by 3. As much as I'd like to see Eric Mangini's revenge be completed against the Jets, defeating his old team (which is currently struggling), I can't seem to pick the Browns. The Jets
should
win this game... but should and will are two separate things entirely. Personally, I will be rooting for the Browns to take down the second AFC East team in a row.
Cincinnati (2-6) @ Indianapolis (5-3):
Indianapolis by 10. At home, the Bengals' chance of defeating the Colts is minimal. The Bengals are simply a bad team this year and the Colts should be able to get over their injury concerns to beat the Bengals, who are looking to be a break from a storm in their schedule. Anything is possible though if the Colts choose to sleep on the Bengals.
Houston (4-4) @ Jacksonville (4-4):
Houston by 7. If there was ever a game that seemed perfect to get struggling Texans QB
Matt Schaub
back on track, its this one, against a struggling Jacksonville secondary. The Texans better be careful though - the Jags are at home coming off a bye.
Tennessee (5-3) @ Miami (4-4):
Miami by 3. Yes, I'm serious about this prediction... and I've been picking Dolphins games right for the past couple games now. After being humiliated in Baltimore, the Dolphins will want to get back on track, getting their first home victory of the season. The wildcard here will be the impact of
Randy Moss
, who is getting another chance against the Dolphins after being held to 0 catches by
Vontae Davis
in the first matchup. I highly doubt he will make much of a splash statistically but if he can divert defensive attention just enough from
Chris Johnson
, he could be an effective diversion for this Titans offense.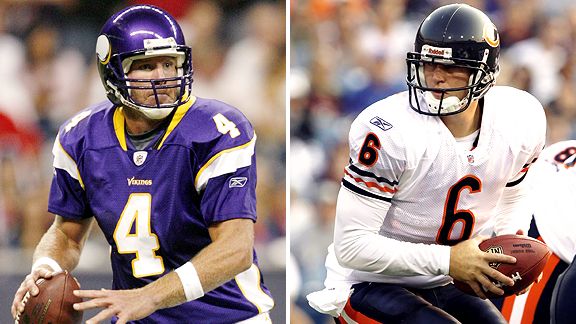 Which QB is worse? Find out next week in the Vikings soap opera!
Minnesota (3-5) @ Chicago (5-3):
Minnesota by 3. I don't really like either of these teams right now, but I dislike the Bears slightly more since I feel they are more overrated. They could barely beat the Bills, and offensive line concerns will be magnified against the Vikings this coming Sunday. Also, you know the Vikings will be at their best... their playoff dreams will be all but crushed if they lose to the Bears.
Carolina (1-7) @ Tampa Bay (5-3):
Tampa Bay by 10. The Buccaneers continue their pillaging of below-average teams this Sunday, defeating the terrible Carolina Panthers by a huge margin. Raheem Morris once again deludes himself to thinking he has the best team in the NFC.
Kansas City (5-3) @ Denver (2-6):
Denver by 7. The Broncos have had two weeks to think about how things got so bad, and they will get to play the Chiefs at home next Sunday. I think its a game that will be very emotional for the Broncos, and I think they will be able to come out victorious.
Kyle Orton
could be in store for a big game.
St. Louis (4-4) @ San Francisco (2-6):
San Francisco by 3. I think this game is going to be very close, both teams coming off a bye to this crucial NFC West matchup. However, I'm going to give the Niners a win at home. I guess we'll see if the play we saw in London against the Broncos the week before the bye was legit or not.
Jason Garrett may be in over his head at New York.
Dallas (1-7) @ New York G (6-2):
New York G by 17. Heh, this is going to be a slaughter and living nightmare for new coach Jason Garrett. He will wish he stayed in his somewhat-secure job as offensive coordinator.
Seattle (4-4) @ Arizona (3-5):
Arizona by 3. The Cardinals are simply playing better football right now. In case you missed it, yes, I'm predicting that all four teams in the NFC West will have losing records after this week. Because they all really should have winning records. The only reason they do not now is because they have the luxury of playing their own every year twice.
New England (6-2) @ Pittsburgh (6-2):
Pittsburgh by 10. Patriots, meet the Browns' bigger cousin, the Pittsburgh Steelers. It will be interesting to see now Bellichick responds after losing to the Browns, but the Steelers defense will cause much more problems for this offense than the Browns' did. The only thing I can think of is the possibility that the Patriots looked over the Browns to the Steelers... but nah, I think the Steelers will win this one nicely.
Philadelphia (5-3) @ Washington (4-4):
Philadelphia by 7. Alright, so I did enough hyping up of this game in the power rankings, but I do think the Eagles will win this rematch. They have the more dynamic offense, and better defense. Anything is possible in the NFL between such hated division, rivals though. And that is why we love the NFL.
Results of Last Week's Poll
Last week, I asked my readers "
Which 2009-Draft class QB looks to be the best so far?
" between
Mark Sanchez
,
Josh Freeman
, or
Matthew Stafford
.
This poll ended in a three way tie, I guess they are pretty close so far. When he isn't injured, Stafford has done wonders for the Lions, Sanchez is winning for the Jets (although I still think he is more of a hindrance than a help) and Josh Freeman is making big plays.
This week's poll is "
Who was the worst head coach during this 2010 - 2011 season?
" between
Marvin Lewis
,
Wade Phillips
,
John Fox
,
Brad Childress
,
Josh McDaniels
or
Mike Singletary
?
Vote on the right-sidebar of my blog!